(CNN) -- The strike which threatened to delay the construction schedule of stadiums for the 2010 World Cup in South Africa has ended according to the key union behind the dispute.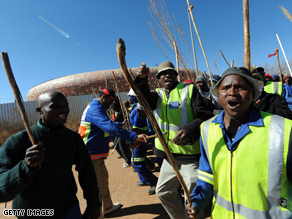 Striking employees should be back at work on Thursday
Thamsanqa Matosa, the deputy president of the National Union of Mineworkers (NUM), a body which represents the majority of workers who downed tools a week ago, told reuters.com: "We have an agreement ...the strike will be called off immediately after the signing and the workers will be expected to report for work on Thursday."
Building plans for all the 2010 World Cup stadium sites along with the Gautrain high-speed rail project were in jeopardy because of the disagreement, with an estimated 70,000 employees refusing to work.
Don't Miss
The NUM, who had threatened a strike that could "enter the book of world records" for its longevity, had demanded a pay rise of 13 percent for their members but eventually settled for 12 after a meeting with employers and the local organizing committee.
Matosa declined to comment on what level of wage increase had been agreed and on whether the workers would be blocked from further industrial action until after next year's event. "Those details will be revealed after the signing," he said.
The 2010 FIFA World Cup Organising Committee South Africa stated on their official Web site: "We are happy that an agreement has been reached between the unions representing the workers and the employers.
"In doing so, the workers and employers have paved the way to the timely construction of the stadiums to be used during the World Cup next year," the statement went on.
"Their long hours of negotiations also demonstrated their patriotism and love of the country. Let the construction restart in earnest."

South Africa is the first African country to be awarded the World Cup finals and the main concerns have centered around crime and security as well as the readiness of the stadiums.
But a successful hosting of the Confederations Cup last month, won by Brazil, helped silence critics and local organizers have remained steadfast in their belief that they will stage a successful World Cup.
E-mail to a friend