(CNN) -- Former Italy captain Paolo Maldini has turned down an offer to become part of the Chelsea coaching staff under his former AC Milan supremo Carlo Ancelotti.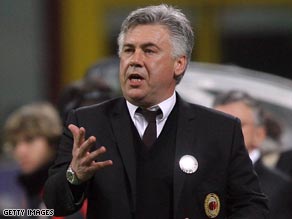 New Chelsea manager Ancelotti is disappointed Paolo Maldini will not be joining him at the London club.
Ancelotti joined the Premier League from the Italian giants last month and had hoped Maldini would follow him to Stamford Bridge after ending his playing career at the end of the season.
"I made that proposal to him," said Ancelotti in an interview with Radio Deejay. "But he wanted to take time off and after so many years playing, it's understandable.
"But if I could have taken anyone to Chelsea, it would have been Maldini."
The 41-year-old Maldini spent his entire club career at Serie A Milan, making his final appearance in the 2-0 win against Fiorentina at the end of May.
Chelsea have not made any summer signings so far despite being linked with moves for Milan striker Alexandre Pato and Inter Milan full-back Maicon.
"The transfer market is really complicated," said Ancelotti. "Following Cristiano Ronaldo's transfer to Real Madrid, everything has gone mad."
Ronaldo moved to Madrid from Manchester United for a world-record $130million transfer fee, shortly after $100m Kaka also joined the Spanish side from Milan.
Ancelotti, who signed a three-year contract with Chelsea, is spending the summer learning English but admits he is struggling.
"There is a bet going that (Chelsea striker Didier) Drogba will learn the Milanese dialect before I learn English and my money is on Drogba," joked Ancelotti.
Ancelotti, meanwhile, is expected to complete his first signing of the summer this week with the capture of Yuri Zhirkov from CSKA Moscow.
The 25-year-old, a long-time target for the Blues, can play either on the left side of midfield or defense.
E-mail to a friend