(CNN) -- Former Chelsea manager Luiz Felipe Scolari has claimed that he was forced out of the English club because several players did not support him.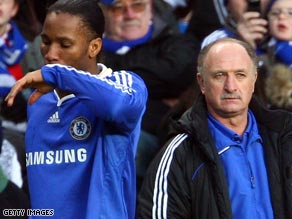 Didier Drogba, left, was a fringe figure at Chelsea while Luiz Felipe Scolari was in charge.
The Brazilian was sacked in February after an unhappy eight-month spell in London and temporarily replaced by Russia coach Guus Hiddink.
The 60-year-old, who is now in charge of Uzbekistan club Bunyodkor, singled out Ivory Coast striker Didier Drogba, Germany midfielder Michael Ballack and Czech Republic goalkeeper Petr Cech as problem players.
Cech has publicly criticized Scolari's reign, during which Drogba made little impact due to injuries and suspension and was often relegated to the substitutes' bench.
All three players have denied putting pressure on owner Roman Abramovich, who subsequently appointed AC Milan's Carlo Ancelotti when Hiddink finished his stint at the end of last season.
"The real owners of football at the moment are the players. The coach, in most European clubs, has no strength to contradict them," Scolari told Brazilian newspaper O Globo.
"The people sacked are always the coaches. The main players already know this. That was my problem at Chelsea. Drogba, Ballack and Cech did not accept my training methods or my demands."
Don't Miss
Meanwhile, Scolari has predicted that Real Madrid's new mega signings Cristiano Ronaldo and Kaka -- who he has managed with Brazil and Portugal -- will form a strong alliance at the Spanish club.
"Kaka is a strange player because of what he does both on and off the field," the 2002 World Cup winner said. "That guy is a strange jewel. Despite having gained big fame and money, he keeps doing his best on the pitch like a youngster.
"I am sure Cristiano Ronaldo and he will get on very well with each other. Cristiano has nothing to do with the conceited image everybody has of him. I think both of them will be big friends.
"The problem Real Madrid have is Raul. He is a veteran and is still the boss in the dressing room, so woe betide anyone he doesn't like -- including the coach."
Scolari revealed that he wants to coach in Brazil when his Bunyodkor contract ends in December 2010 before finally retiring.
"My contract lasts one year and a half, but every six months we'll sit down and discuss things," he said. "Both they and I can decide not to continue. They want me to coach their national team but nothing is decided yet.
"Rivaldo, the big player of our team, told me it was great to do a very good job because he knows the under-20 team of the country and he told me there are a few players who are very good on the ball, who have good futures.
"I'll be back (in Brazil) in one year and a half. I will work there as a coach for two more years and that's it. I'll change job or retire.
"Palmeiras wanted me to sign a pre-contract for the day I return to Brazil, but I rejected it. When I am back, I want to be free to decide the best thing at that moment. Also, there was a Sao Paulo director who called my agent because he wanted my phone number."
E-mail to a friend

All About Luiz Felipe Scolari • Didier Drogba • Petr Cech • Michael Ballack • Chelsea FC • Brazil • European Football