(CNN) -- Portsmouth's 24-year-old England international full-back Glen Johnson has completed his £17 million ($28 million) move to Premier League giants Liverpool on a four-year contract.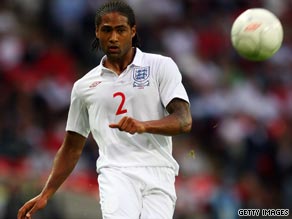 Johnson established himself as England's right-back after impressing for Portsmouth last season.
Liverpool manager Rafael Benitez has admitted he had to act quickly in a "crazy" market to secure the signing of the defender, who was also attracting the interest of his former club Chelsea, as well as big-spending Manchester City.
Benitez has already accepted he paid over the odds for the player, although a large chunk of the fee will be offset by money still owed from Peter Crouch's transfer to Portsmouth last summer. Latest transfer rumors and gossip
"We knew the market was going to be difficult this summer and some of it has been crazy," Benitez told Press Association Sport.
"Manchester City and Chelsea were there -- they were making offers -- and we had to act very quickly to get him.
"It was down to the player whether he chose us or City or Chelsea and he chose us. It was very clear from talking to him that he wanted to play for Liverpool."
Part of the reason the Johnson deal cost so much was the premium now attached to English players. With regulations set to become tighter on the number of foreigners each side can field, Benitez knew he would have to pay a large sum for Johnson.
Don't Miss
"We were thinking about bringing in players with quality and Johnson is a very good player," added the Liverpool manager. "He is also English and that is important for the Champions League list."
Johnson's arrival increases the likelihood that Spaniard Alvaro Arbeloa will leave this summer, with Real Madrid ready to make a move. But Benitez has not ruled out the possibility of the 26-year-old staying.
"Arbeloa was a good player for us last year. He has one year left on his contract and we have offered him an extension and we're talking," Benitez told the club's official Web site.
"He is our player but if there is a good offer we have to consider it. We have two or three clubs asking about him. He would like to stay but he knows the competition will be hard."
E-mail to a friend