(CNN) -- Real Madrid president Florentino Perez claims it is only "a question of time" before the club sign David Villa.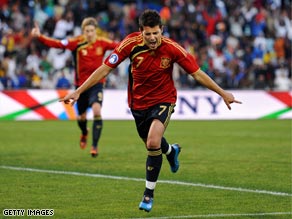 Valencia striker David Villa is currently starring for Spain in the Confederations Cup in South Africa.
With the services of playmaker Kaka already secured and an agreement in place with Manchester United for the $130m signing of Cristiano Ronaldo, Madrid now appear to be closing in on Villa.
Madrid are one of a number of clubs being linked to the striker, but talks between them and cash-strapped Valencia broke down last weekend and Los Che president Manuel Llorente revealed on Tuesday that there were no existing bids on the table for the 27-year-old. Latest transfer rumors and gossip
However, Perez was quoted as telling the Canal Nou TV station: "Everything must be done in a friendly and co-operative way and we have very good relations with Valencia. Things need to be done calmly, be explained well and so that everybody is happy. We have the whole of the summer ahead of us."
Perez insists the fee they are willing to pay for Villa will not be in the same bracket as the ones they agreed for Kaka and Ronaldo.
"Players like Cristiano Ronaldo and Kaka, who are Ballon d`Or or FIFA World Player of the Year winners, are players that are called investment players," he added.
"Real Madrid cannot pay these quantities of money for every player. This is not to put down Villa. Players who have won these awards have an international impact. I think Villa is an excellent player, but he is a footballer who we have to accommodate into our project."
Perez`s comments come just a day after Villa confirmed he had made up his mind about where he wants to be playing his club football next season.
Don't Miss
Villa revealed, after starring for Spain in the Confederations Cup, that he had already taken a decision about his future and said that his agent was working on achieving that aim.
The striker, who has also reportedly attracted the interest of Barcelona, Manchester United and Chelsea, did not reveal what his decision was, but Spanish sports newspapers Marca and AS both believe it is Madrid who are his top choice.
Madrid`s summer spending spree could also see them swoop for Bayern Munich winger Franck Ribery, with Zinedine Zidane claiming negotiations for his fellow Frenchman are "on the right track".
Ribery has long been linked with a move to Madrid but his departure from Bayern appeared to hit a snag when the Bundesliga club issued a statement insisting the player was not for sale.
But Zidane, who was brought in by Perez as a special advisor at Madrid, has revealed the Spanish giants have not been put off by Bayern's stance.
"The discussions are on the right track," he told Le Parisien newspaper. "Personally, I am for Ribery coming to Madrid and I will do everything to make that happen. It's my wish as much as that of the club's president."
Despite a number of players expected to leave Madrid this summer, the club have denied media reports suggesting they have faxed English clubs a list of players that are available for transfer,
"Real Madrid want to categorically deny said information, which if correct would be completely disrespectful to the members of the squad," the club said in a statement.
E-mail to a friend