(CNN) -- Celtic have appointed Tony Mowbray as their new manager in succession to Gordon Strachan, the Scottish Premier League giants confirmed on Tuesday.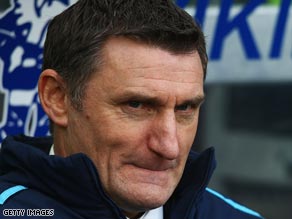 Tony Mowbray has left relegated West Bromwich to become manager at Scottish giants Celtic.
Mowbray was given permission by West Brom Albion chairman Jeremy Peace to open negotiations with the Parkhead club after Celtic agreed to the Baggies' request for a reported $3million compensation.
"Celtic Football Club is delighted to confirm that Tony Mowbray has been appointed the new Celtic manager," read a Web site statement.
"Tony will be joined at Celtic by Mark Venus, Peter Grant and Neil Lennon in the new Celtic management team."
The appointment finally ends Celtic's drawn-out bid to replace Strachan, who departed following the team's failure to win a fourth consecutive league title.
Mowbray, who played for Celtic between 1991 and 1995, had been one of three managers targeted by Celtic, along with Burnley's Owen Coyle and Swansea's Roberto Martinez.
Coyle decided to remain at Turf Moor after leading the Clarets into the English Premier League, while Martinez opted for the lure of his former club Wigan.
"We did not want to lose Tony because he has been an integral part of a long-term project at the club, which the vast majority of our fans have bought into. But Tony expressed his desire to talk to Celtic," Peace told Albion's Web site.
After Mowbray agreed personal terms and compensation had been negotiated for Venus and Grant, Celtic were able to publicly announce the deal.
Mowbray is no stranger to Scottish football after leading Hibernian to two top-four finishes in 2005 and 2006.
At West Brom he won the Championship title and promotion to the Premier League in 2008, but the club were relegated after just a season in the top flight despite receiving praise for their entertaining football.
Mowbray's first job will be to assess his squad ahead of the first of possibly two tricky Champions League qualifiers at the end of July.
With the Scottish Premier League fixtures being announced Wednesday, Mowbray will discover who will be his first opponents in the league campaign.
Davide Ballardini has been named as the new coach at Serie A Lazio after signing a two-year contract.
The 46-year-old, who guided Palermo to an eighth-placed finish in Serie A last season, succeeds Delio Rossi who left the Roman outfit this month after four years in charge.
Laziol play in the UEFA Europa League after beating Sampdoria in the Coppa Italia final and Ballardini relishes the challenge.
"It's going to be an exciting adventure," he said. "Lazio has great potential and the players will have to prove it on a daily basis. Lazio must have one clear aim, to always be competitive.
"It's a duty in all of the tournaments it will compete in. To say how Lazio will play under me would not be fair right now but I do have clear ideas of how to bring out the best in the players."
Portuguese side Benfica have appointed Jorge Jesus as their new coach on a two-year deal following their third place finish in the 2009 league campaign.
Benfica said Tuesday they had "agreed terms with the coach Jorge Jesus on a two-year contract". Jesus arrives from Sporting Braga, who on Monday agreed to accept 700,000 euros in compensation from Benfica.
Jesus replaces Spaniard Quique Flores, who coached Benfica to League Cup triumph but paid the price for a mediocre finish in the league by being sacked last week.
Benfica, European champions in 1961 and 1962, have won a record 31 league titles but last did so in 2004.
E-mail to a friend