(CNN) -- Chelsea duo Deco and Ricardo Carvalho could rejoin former boss Jose Mourinho at Inter Milan after the coach instructed his Italian champions to sign the Portugal internationals before heading off on holiday.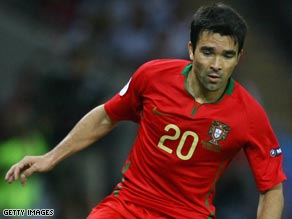 Deco, above, and teammate Ricardo Carvalho are wanted by former boss Jose Mourinho at Inter Milan.
"Mourinho has asked us for Deco and Carvalho and we are working towards making him happy," said Inter president Massimo Moratti. "Our wish is to sign both players and I have seen that the players' intention is to join us.
"We still haven't reached an agreement with Chelsea, but I think we will do in a short time."
Both men originally played under Mourinho at Porto. But while central defender Carvalho followed Mourinho to Stamford Bridge in 2004, Brazilian-born Deco instead signed for Barcelona.
Deco finally arrived at Chelsea last June when he became new manager Luis Felipe Scolari's first signing. Scolari did not last long while injuries restricted the 31-year-old Deco to just 22 Premier League outings.
He reportedly said recently that it would be a "pleasure" to rejoin Mourinho at Inter while Carvalho made it clear he would also be interested is Chelsea decided he could leave.
Moratti is convinced Carvalho will bring plenty of experience to the Inter defense.
Don't Miss
"We are interested in Carvalho primarily for the Champions League," Moratti told Gazzetta dello Sport. "He has the right experience, he is calm under pressure and brings experience in the defensive line.
"Our coach has guaranteed quality and I have every intention to make him happy."
Carvalho, also 31, made only 18 appearances last campaign when he endured injury problems.
"Inter have expressed their interest," he told Gazzetta dello Sport. "But the two clubs have to reach an agreement so there's a lot of work left to do and then they need to speak to me because I have a contract with Chelsea."
He added: "I have not spoken to Mourinho in a long time and I have neither spoken to our new (Chelsea) manager (Carlo Ancelotti). Next week I will meet the club and discuss my future."
"This year it hasn't gone well at Chelsea because I was injured," he said. "But prior to that, I had enjoyed four fantastic seasons and you don't forget that.
"(Deco's) situation and mine are very different. I have been at Chelsea for five years while he has only been there one. I am not sure if he wants to change.
"With regards to me, my last year here was one to forget about but I could also remain. But if Chelsea wants to sell me that's fine by me."
E-mail to a friend