(CNN) -- Liverpool manager Rafael Benitez has ruled out selling Argentina midfielder Javier Mascherano to European champions Barcelona.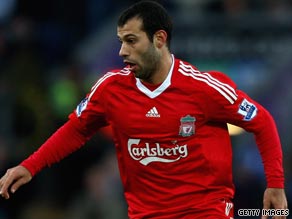 Liverpool insist Argentina midfielder Javier Mascherano is not for sale at any price.
Mascherano's agent Walter Tamer has been widely quoted in the Spanish media as saying the player would welcome a move to the Nou Camp.
However, Benitez has dismissed the idea, insisting Mascherano is happy at Anfield. "Mascherano has no price," the Spaniard told the club's official Web site.
"Barcelona could not afford to match his value to Liverpool Football Club. We do not want to sell and Javier is very happy here.
"I have spoken to Javier two or three times this summer -- the last time was only last week -- and he was very happy, very positive.
"He gave me the private number of his agent, Walter Tamer, and again the conversation was very positive and was all about football.
"Walter told me that two clubs with big, big names were asking after Mascherano -- and I told him to forget it, that Javier was happy in Liverpool and he was not for sale.
"So I was surprised to see the agent's recent comments. He has a long contract and any club can forget about bidding for him. They can offer £40m ($56m) or even £50m ($70m), we don't want to sell."
E-mail to a friend