(CNN) -- West Ham United's long-term future was secured on Monday when the Premier League club was sold to a company owned by Iceland's largest investment bank in a deal reportedly worth around $162million.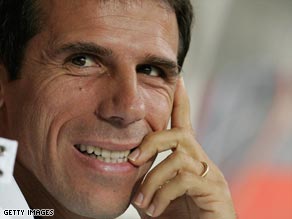 West Ham's new owners are backing manager Gianfranco Zola as they take the Premier League club forward.
Asset management company CB Holding, the majority of which belongs to Straumur-Burdaras, stepped in after previous owner and chairman Bjorgolfur Gudmundsson saw his fortune wiped out in the credit crunch.
Relegated Newcastle United are also seeking a buyer with owner Mike Ashley ready to accept a similar knock-down $162million for his club following their loss of top flight status.
Meanwhile, West Ham's new non-executive club chairman and majority shareholder in CB Holding, Andrew Bernhardt, has an initial two-year plan and promised a bright future for the east London club.
"We have one of the best young management partnerships in Gianfranco Zola and Steve Clarke and the team has evolved with a great mix of experience and young players coming through from the academy," he said.
"I can assure fans we will sanction investment in new players, but all within the parameters of sensible budgeting based on revenues generated by West Ham United.
"It will be my job to help facilitate this continued progress on the pitch, while ensuring the club's success is built on a strong financial footing.
"We have an initial two-year plan whoich includes improving the infrastructure at the club and we will be getting to work on this as soon as the new board is appointed."
He added: "CB Holding fully supports the executive management of the club and acknowledges the considerable progress achieved this season by (CEO) Scott Duxbury and Gianfranco Zola. CB Holding has no intention of changing the executive management or direction of the club."
Duxbury insisted that the uncertainty of recent months had not been laid to rest, saying: "This is an agreement that will secure the long-term future of this football club.
"Change is always unsettling, but I believe the new owners led by Andrew Bernhardt will bring stability to West Ham United and I hope all our staff and fans will join me in welcoming them to our club."
Don't Miss
He added: "This will allow us all to concentrate on next season and beyond, with Gianfranco Zola, technical director Gianluca Nani and I working to build on what we have achieved. We are all committed to a long-term vision.
"We are playing great football, have our academy at the heart of the club and are looking to the past to move forward in the right way. I can assure all fans that I will never lose sight of this. I am determined to being success to West Ham United."
Sportswear magnate Ashley, whose Newcastle were relegated despite the efforts of temporary manager Alan Shearer, confirmed his intention to sell in a Web site announcement.
"The Board of Newcastle United can today confirm that the club is for sale at the price of £100m. Interested parties should contact Newcastle United at adminnufc.co.uk (or Keith Harris at Seymour Pierce) for further details. The club will not be making any further comment at the present time," said the Newcastle statement.
E-mail to a friend