(CNN) -- Former defender Ciro Ferrara has been appointed as the permanent coach of Serie A giants Juventus on a two-year contract.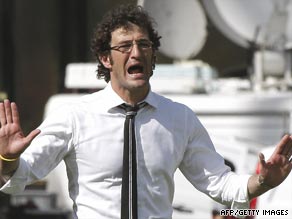 Ferrara has been handed the Juventus post on a permanent basis after leading them to second in Serie A.
Ferrara replaced the sacked Claudio Ranieri on an interim basis after a poor run of form which threatened the club's bid for an automatic Champions League berth.
Under 42-year-old Ferrara, Juve beat Siena 3-0 and won 2-0 against Lazio to pip AC Milan in the race to finish second behind Inter Milan in Serie A.
"I have no fear about taking on this job," Ferrara told the official Juventus Web site.
"Being coach of Juventus is a great job which carries a lot of weight. I feel ready to embark on this adventure. The risks exist but they help you grow and improve as a person," he added.
"The last two matches of the season were very important because our objective was to reach second place in the table.
"The fact that I know the environment was definitely one of the factors behind me getting the job, but I think the two matches and the two weeks of training were decisive in the decision taken by the directors."
E-mail to a friend