(CNN) -- Liverpool's American owners Tom Hicks and George Gillett may face some difficult decisions regarding their continued involvement with the Premier League club.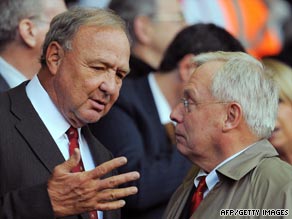 Hicks (left) and Gillett need to refinance the loan they took out when buying Liverpool in 2007.
The pair have just over six weeks to agree a refinancing package on the loan they took out to buy the club in 2007.
Accountants KPMG have expressed concern over the level of debt being incurred by Kop Football Holdings, Liverpool's parent company, after it posted losses of £42.6million ($68m) in the year ending July 2008.
Most of that was a result of £36 million ($57.5) of interest payments on a loan of £350million ($559m) --which has to be renegotiated by July 24.
However, suggestions Liverpool are facing financial meltdown have been dismissed by sources close to the American duo as "totally wide of the mark".
The club itself posted profits of £10.2 million ($16.3m) but that was swallowed up by the huge interest payments of the parent company.
"The owners seem remarkably relaxed about it, which can only be a good sign," an insider told Press Association Sport.
"There is no threat to the club. Liverpool's profitability and profits are up. There are other clubs who are considerably more in debt than Liverpool are."
Hicks and Gillett are confident they can refinance the loan in time for the July deadline. However, leading football financial experts believe in the long term they need a huge influx of cash from outside or they will have to sell up.
In January, Kuwaiti billionaire Nasser Al-Kharafi offered £425million ($629m) for overall control but the Americans only want to sell 50 per cent -- which will prove a significant hurdle to further investment.
E-mail to a friend