By Mike Steere
For CNN






LONDON, England (CNN) -- Some of the world's top coaches had a torrid time this season.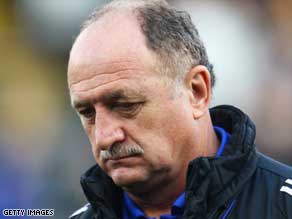 Luiz Felipe Scolari proved to be a disappointment at English Premier League side Chelsea
The high expectations on top level coaches saw some leave their jobs under immense strain, while others were forced out due to poor results.
In the English Premier League this season ten coaches were fired or left their job -- while Liverpool's Rafael Benitez and then Chelsea coach Phil Scolari developed kidney stones -- a condition believed to be related to stress. Newcastle's coach Joe Kinnear was forced to step aside for a lengthy period due to heart problems.
Among these and other issues, a number of coaches from around the globe proved to be great disappointments this season.
Don't Miss
CNN sports anchor Pedro Pinto told Football Fanzone that the coach who disappointed him the most in the 2008-09 was Bayern Munich's Jurgen Klinsmann.
"He had to be relieved of his duties in the final sprint for the Bundesliga title race. Worse than their performances in Germany was their capitulation against Barcelona at the Camp Nou in the Champions League. It is inexcusable to concede four goals in a half, even against the almighty European champions.
"The fact he failed to motivate a star-studded dressing room means it will be a while before he gets another chance at a top club in Europe."


List: Ten high profile coaches who disappointed this season »
Who do you think was the most disappointing coach of the 2008-09 season? Tell us in the Sound Off box below.
E-mail to a friend