(CNN) -- Germany captain Michael Ballack gave new Chelsea coach Carlos Ancelotti a boost on Tuesday when he signed up for another year at the Premier League Club.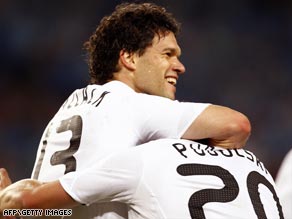 Germany captain Ballack has extended his Chelsea stay by another season.
Ancelotti stepped into the vacancy left by the departure of Dutch coach Guus Hiddink who has returned to Moscow to concentrate on taking Russia to the 2010 World Cup finals.
And Ballack swiftly announced he will be around next season ensuring he will be playing in the Premier League in the run-up to next year's tournament in South Africa.
The 32-year-old said: "I am very happy to be staying at Chelsea for one more year as it was always my intention to play in London at least until the World Cup in 2010.
Don't Miss
"We had a fantastic end to the season, winning the FA Cup, and we are all looking forward to taking this success into the new season under Carlo Ancelotti, our new manager."
Ballack moved to London from Bayern Munich in 2006 and has won two FA Cups and a League Cup in his time in the British capital.
A Chelsea statement added: "Michael has been a key member of our team for three years so we are naturally very happy that we have agreed the extension."
E-mail to a friend