(CNN) -- Celtic manager Gordon Strachan has quit following the club's failure to clinch a fourth successive Scottish Premier League title.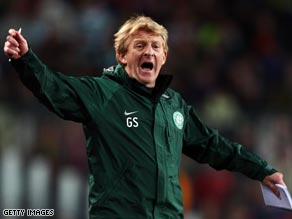 Strachan has opted to quit Celtic after they failed to win a fourth successive Scottish title.
The Glasgow giants confirmed on their Web site that Strachan -- who won three titles and three domestic cups in his four years in charge -- had decided to step down.
Strachan said in a statement: "I have enjoyed my time immensely at Celtic and clearly I will be sad to leave this great club."
He added: "As I have said before, Celtic is a special club, with special supporters.
"There is no club like it and it has been an absolute honor and privilege to be the club's manager for the past four years.
"We have done all we can to bring success to the club and we were delighted to deliver three SPL titles, other domestic silverware, as well as making some great progress in Europe.
"It is just disappointing that we did not manage the fourth championship. But the players can hold their heads high in terms of what they have done for the club in recent years.
"I would like to thank the Celtic board for all the support they have given me during the past four years -- I could not have asked for any more support.
"I thank all the players I have worked with at the club and, of course, my backroom team for the backing and assistance which they have given me.
"I thank the fans too for the tremendous support which they have given both myself and the players. I wish Celtic and our supporters nothing but success for the future."
Strachan had refused to discuss his future immediately after Sunday's final game of the season, a 0-0 draw with Hearts which was not good enough to prevent rivals Rangers from securing the title.
Celtic chief executive Lawwell paid tribute to Strachan, saying: "Gordon has given everything to the club and worked tirelessly to bring success to Celtic.
"He has achieved so much at both domestic and European levels. It has been a pleasure to work closely with Gordon and he leaves the club with all our best wishes.
"We thank Gordon for his commitment and achievements at the club and we also thank our fans for backing us all the way this season.
"Our fans know how to support their club and we will be doing all we can to once again bring back the title to Celtic Park, something which our support deserves."
Lawwell will now lead the hunt for a successor along with chairman John Reid and main shareholder Dermot Desmond.
Candidates already mentioned include Burnley manager Owen Coyle, who led his side to the Premier League on Monday with victory in the Championship play-off final, Motherwell manager Mark McGhee and West Brom manager Tony Mowbray.
Meanwhile, Strachan himself is being strongly linked to the vacant managerial vacancy at Sunderland following the resignation of Ricky Sbragia on Sunday.
E-mail to a friend