(CNN) -- AC Milan coach Carlo Ancelotti says he would "love" to manage Chelsea but insists he is "100 percent certain" to still be at the San Siro next season.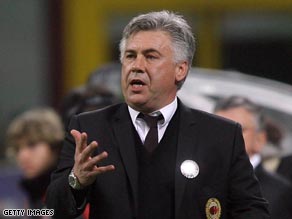 Milan coach Ancelotti says he is "100 percent certain" to still be in charge at the Serie A club next season.
Speculation has been rife in Italy and England that Ancelotti will leave Milan for Chelsea in the summer.
Now it appears that the Rossoneri will make an announcement on his future on Monday if they clinch Champions League qualification this weekend.
"I am Milan coach until June 30, 2010," he said. "I know how things are, I don't see things cloudy, I see everything very clearly.
"If you had to ask me to express in a percentage I would say that it's 100 percent certain that I will still be at Milan next year.
"But a proper response on my future could be postponed by a matter of days or several years.
"I have never talked to Chelsea. I did it last year, this year no. I know everyone wants to know the end of the tale but for me things are very clear, as they are for the club. And they are the same."
However, Ancelotti admits things could change in an instant.
He added: "At the moment I don't have anything open with Chelsea, we still have the end of the season and if we have to find a solution we will.
"Today only the contract I have matters. I am open to anything. It's obvious that I would say yes if you ask me if I would love to coach Chelsea."
E-mail to a friend