(CNN) -- Arsenal captain Cesc Fabregas has been cleared in a spitting row which followed their 2-1 win over Hull City in the FA Cup in March.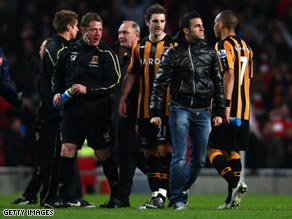 Fabregas struts past Hull players and coaches after Arsenal's 2-1 win at the Emirates.
Fabregas faced two charges of improper conduct after the tie at the Emirates Stadium -- the most serious that he spat at Hull assistant manager Brian Horton -- the other over his behavior as he came on to the pitch to join in Arsenal's celebrations after the victory.
Hull manager Phil Brown made the allegations in a post-match television interview, but Spain midfielder Fabregas, who sat out the match with a knee injury, always protested his innocence.
The English Football Association (FA) confirmed on Friday that following a regulatory commission hearing that the charges were "not proven".
Brown, who was also charged by the FA for his outspoken comments about referee Mike Riley, has requested a personal hearing.
The FA had not wanted the result of the hearing made public until after Hull's make or break final match of the season against Premier League champions Manchester United on Sunday.
Hull need to beat United at the KC Stadium to make sure they stay in the Premier League, but the club revealed the FA decision on their own official Web site www.hullcityafc.net.
Fabregas has remained upbeat about the outcome of the FA inquiry into the spitting allegation and told Press Association
"If I am suspended for that, my heart and my mind will be relaxed because I have not done anything wrong," he said.
E-mail to a friend