(CNN) -- Real Madrid sporting director Predrag Mijatovic has left the Primera Liga giants by mutual agreement -- the club have confirmed on their official Web site.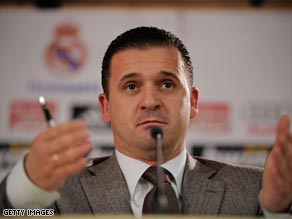 Mijatovic guided Real Madrid two two league titles since taking over as sporting director.
A statement on www.realmadrid.com read: "Real Madrid's board of directors and the club's sporting director, Pedja Mijatovic, have reached a mutual agreement for the termination of the latter's contract, which was set to end in June 2010."
The statement continued: "The board wishes to express its most sincere gratitude for the work Pedja Mijatovic has done in the past three seasons, during which the club won two league titles (2006/07 and 2007/08) and one Spanish SuperCopa (2008).
"Real Madrid wish Mijatovic all the best in his future personal and professional endeavors."
Mijatovic, a former Serbia & Montenegro international, retired from football in 2004 and, after a brief spell as an agent, linked up with Ramon Calderon for his presidential bid at the Bernabeu.
He took up the role of Madrid sporting director in summer 2006, but his future has been in doubt since Calderon's exit earlier this year.
Former president Florentino Perez last week confirmed he would be running for president again this summer, admitting he made a mistake in stepping down from the hotseat three years ago.
Perez is the overwhelming favorite to take over once again this summer and that was clearly on Mijatovic's mind when the decision for him to leave was made.
"With the end of the season in sight, the team mathematically qualified to finish second and the electoral process officially under way, I believe this move was the most appropriate in order not to interfere in any way with the important events that will take place at the club in the next few weeks," Mijatovic said in a statement.
"I will always be grateful to the current board of directors for the faith placed in me over the last three years," he added.
E-mail to a friend