(CNN) -- Fomer Real Madrid president Florentino Perez has confirmed that he will stand in the club's forthcoming presidential election -- the official Real Madrid Web site has confirmed.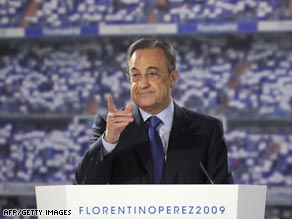 Perez stood down from his position in February 2006, after six successful years at the helm, claiming the team, and the club as a whole, needed a new direction
However, Perez told the official Web site: "I did so for the good of Real Madrid. I admit it was the wrong decision, although my resignation was only supposed to help Madrid.
"During my six years with Real Madrid the club became a model for the world to see in terms of both sporting and economic success.
"We recovered the image of Real Madrid. We consolidated the Real Madrid brand and converted it into the club of solidarity with universal appeal.
"What really drives me is the urgent and vital need to lay the groundwork for an organizational model that no one can destroy in the future. I return with more enthusiasm, more ideas, more strength and more passion than before.
"We are working on a spectacular project that will ensure that Real Madrid continues being the greatest club in the world, the best club of the 21st century.
"Within a matter of days when the official call for elections has taken place, we will announce the details of this exciting four-year project."
Since Perez left, four different men have taken over the Real Madrid hotseat, with only Ramon Calderon relatively successful in the position.
Current inhabitant Vicente Boluda, who only took over in June, is in charge until the election takes place on June 15.
E-mail to a friend