By Mike Steere
For CNN






LONDON, England (CNN) -- Tom Henning Ovrebo is a name now etched in the minds of European football fans -- mostly for the wrong reasons.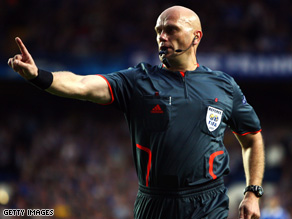 Referee Tom Henning Ovrebo was criticized by some for his decisions in the Champions League semi-final
Ovrebo was in charge of Wednesday night's 1-1 Champions League semi-final draw between English side Chelsea and Spain's Barcelona at Stamford Bridge.
The match ended in controversy as the visitors stole a late equalizer and Chelsea striker Didier Drogba launched a verbal tirade on the referee.
The truth is, both sides come away with grievances regarding the officiating. Drogba and his Chelsea teammate Florent Malouda thought themselves unlucky not to have been awarded penalties, while Barca's Eric Abidal argued he was unjustly sent from the field for an alleged trip.
For the Norwegian referee Ovrebo, this is not the first time his decision-making has attracted harsh criticism.
During last year's European Championships he failed to award Italy's Luca Toni a goal that had been legitimately scored in their match against Romania. He later admitted the mistake and was omitted from the rest of the tournament.
Chelsea's interim manager Guus Hiddink has also been quick to slam the referee's performance.
Do you think Chelsea were hard done by in the Champions League semi-final? Should they have reacted in the manner they did? Share your thoughts in the Sound Off box below.
Football Fanzone
Football fans, the chance to have YOUR say on CNN is here!


"Players make many mistakes, coaches make mistakes, referees can make mistakes. That's why we speak about giving them the benefit of the doubt.
But if you have seen three or four situations waved away, then it's the worst I have seen. I'd have to think a lot if I have seen worse. I cannot blame Barcelona. It's because of the referee.
"We can be annoyed that we did not finish it off, but the overall feeling is one of being robbed and the injustice," The Daily Telegraph newspaper reported Hiddink as saying.
However, the harassment of the referee after the match -- regardless of the result -- is something that is unlikely to be condoned by the game's authorities.
Drogba now faces a UEFA investigation for swearing into the television cameras and approaching Ovrebo.
Ovrebo's performance is bound to reopen debate about who should be appointed to big matches such as this, and whether technology or new refereeing measures should be introduced to prevent matches being heavily influenced by refereeing decisions.
In UEFA's defense they have already trialled a five-referee system and FIFA presented a report highlighting the success of the trials to football's lawmakers, the International Football Association Board (IFAB), according to the FIFA Web site.
E-mail to a friend