(CNN) -- A triumphant Alex Ferguson had words of consolation for his old rival Arsene Wenger after his all-conquering Manchester United side left the Frenchman to reflect on another trophy-less season for Arsenal.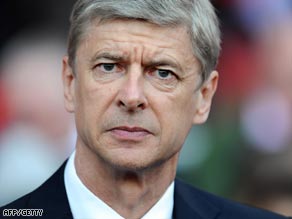 Wenger was left to reflect on a bitter defeat at the hands of his old rival Ferguson.
"It is the most disappointing of nights," Wenger told the Press Association as his side slipped to a 3-1 second leg defeat at the Emirates, losing the Champions League semifinal 4-1 on aggregate.
"I felt the fans were really up for a big night and to disappoint the people who stand behind the team so much hurts really.
"We do not feel like we have played the semifinal of the Champions League because we were out of it after 10 minutes.
"The game was over before it started, that is most difficult to swallow."
Ferguson and Wenger's rivalry has become part of English football folklore but over the years a grudging respect has developed.
And Ferguson, whose team will now bid for a second straight Champions League-Premier League double, underlined the new mood in his post-match remarks.
"I know exactly how he feels," he said. "When you work as hard as he does he deserves success. The problem for Arsene Wenger and myself is that the longer you are in the game the more labels are attached to you. Success or failure.
"If you are not winning you are useless, if you are winning you're great."
Wenger will now try to lift his team for Sunday's Premier League clash against Chelsea as they bid to overhaul the Blues for third position.
They will go into the match with a run of 21 unbeaten league games with Wenger maintaining his side have the quality to eventually triumph. "It's easy to say that it is a bit of experience, but I am convinced that we have the quality and we will continue to develop," he said.
"If you look at the average age of the team, it is still very young. "To reach that level deserves a lot of credit, but we were caught by a team who has the art to kill and take advantage of mistakes."
By contrast, Ferguson is one win away from the third Champions League title of his remarkable Old Trafford reign, a record he feels should be better.
"We should have won this cup more times and this is another opportunity for," he said. "We have the quality, the energy and ambition. It's a hungry team and when the chips are down they don't let me down."
E-mail to a friend