(CNN) -- Marseille coach Eric Gerits is to leave the club at the end of the season despite leading them to the brink of their French league title in 17 years.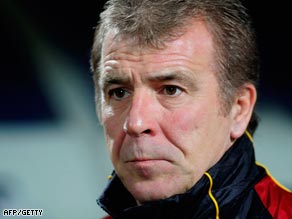 Gerets has led Marseille to the brink of their first French league title in 17 years.
Newspaper speculation on Tuesday prompted former Belgian international star Gerets to announce the news of the official Marseille club Web site www.om.net.
"Yes, I made this decision a while ago," Gerets said. "But given how important everything is right now for my team, with the matches we have coming up, I wanted to wait until at least next week before announcing my intentions and calming everyone down."
Marseille face Toulouse at the weekend, holding a two-point lead over second-placed Bordeaux, who closed the gap with a 3-2 win at Rennes on Wednesday night.
Seven-time champions Lyon are in third place, six points behind Marseille who have been revitalized under Gerets since he took charge in September 2007.
It would be their first French league title since 1992.
Football Fanzone
Football fans, the chance to have YOUR say on CNN is here!


Gerets made his announcement after speculation in the French sports paper L'Equipe linking him with a move to Al Hilal Riyad in Saudi Arabia on a massive salary.
He made direct reference to that report or others linking him with German champions Bayern Munich after the sacking of Juergen Klinsmann.
Gerets said he had been made to feel at home with Marseille.
"The feelings, the excitement that I have been given, are just impossible to explain. It's so fantastic that I don't want to waste this atmosphere. It has been so positive, I will certainly not forget it."
E-mail to a friend