(CNN) -- Arsenal captain Cesc Fabregas has been charged with improper conduct by the English Football Association following allegations he spat at Hull City assistant manager Brian Horton after their FA Cup quarterfinal at the Emirates Stadium on March 17.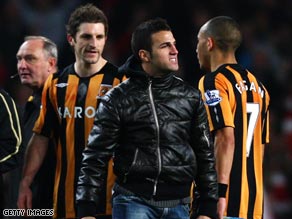 Fabregas (center) faces two charges of misconduct following Arsenal's FA Cup victory over Hull City.
The Gunners were asked by the Football Association to provide their observations and they have now decided to take the matter further.
Fabregas, who was not playing against Hull because of a knee injury, issued a statement on the evening of the incident to deny he spat at Horton in the tunnel and Wenger feels there is no case to answer.
"Fabregas has been charged for improper conduct," the Arsenal manager told a press conference ahead of the Premier League game against Middlesbrough on Sunday.
"I said we are always very open to co-operate with any investigation. I personally looked at the reports, at the video evidence and there is nothing in there against Cesc," he added.
Should the charges be proven, Fabregas, who missed more than three months of the campaign with a knee problem which required surgery, could face a suspension.
However, that would only be for domestic matches and as such would not cover the forthcoming Champions League semifinal against Manchester United.
Football Fanzone
Football fans, the chance to have YOUR say on CNN is here!


Wenger continued: "I dont know if we will appeal -- I will see what we can do about that. I am not a great fan of appealing because I said we are very open to co-operate and now I dont think we should stop that.
"I am very positive that there was enough evidence in what I have seen that the case should have been dropped."
Hull manager Phil Brown brought the alleged incident to light immediately after his side's defeat, but has also been charged by the FA following his outburst at referee Mike Riley.
A statement from the FA read: "Cesc Fabregas and Phil Brown have both been charged with improper conduct. The charges relate to matters arising from the FA Cup match between Arsenal and Hull at the Emirates Stadium on 17 March.
"Fabregas faces two charges of improper conduct relating to his conduct on the pitch following the game. One charge concerns his behavior in coming onto the pitch after the final whistle, the second charge relates to an alleged spitting incident. The charges are based on submissions from Hull City and video evidence.
"Brown is charged with improper conduct and/or bringing the game into disrepute in relation to media comments made after the game concerning referee Mike Riley. Fabregas and Brown have until May 12 to respond," the statement continued.
E-mail to a friend