By Neale Graham
For CNN





LONDON, England (CNN) -- Classic matches come in all shapes and sizes. Invariably they involve goals, lots of them, but not exclusively.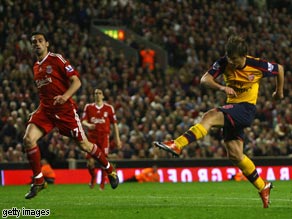 Andrey Arshavin scores his and Arsenal's fourth in the rollercoaster 4-4 draw with Liverpool at Anfield.
In the space of a week, Liverpool have been involved in two 4-4 thrillers. The first of those, against Chelsea in the second leg of their Champions League quarter-final, was a crazy, haphazard affair.
The second, against Arsenal in the Premier League, was a different beast, full of skill, pace, devastating finishing, brilliant football and the kind of ebb and flow that elevates the very good games to the out-of-this-world.
And Liverpool have had more than their share of entries in the file marked "classic matches."
Their dramatic 3-3 draw with AC Milan in the 2005 Champions League final goes down as the comeback to end all comebacks, but their 5-4 golden-goal win over Alves in the 2001 UEFA Cup final was perhaps the better game.
What are the best games you've ever seen? Let us know in the Sound Off below.
And who can forget the Reds' two 4-3 matches with Newcastle in the mid-90s, the first of which is widely accepted as being the best Premier League game of all time?
All of these games took place at night, and there seems to be something about the floodlit arena that can inspire players and supporters to generate an amazing atmosphere.
Chelsea's 4-2 win over Barcelona in the second leg last 16 of the 2004-05 Champions League had a bit of everything, including some Ronaldinho skill that took the breath away.
Manchester United beat Real Madrid 4-3 in a game of incredible attacking intensity in the 2002-03 Champions League quarter-final.
The original, and best, Ronaldo scored a fabulous hat-trick for the Spaniards, who progressed despite the defeat.
The drama of big knock-out matches on the international stage often produces some all-time classics.
Spain's remarkable comeback to beat Yugoslavia 4-3 at Euro 2000 lingers long in the memory.
The Czech Republic's gripping 3-2 win over Holland at Euro 2004 was remarkable, not least for 36 shots being registered in a see-saw 90 minutes.
And Italy's 2006 World Cup semi-final with Germany was one of those games where despite a lack of goals for most of it, it didn't affect the entertainment.
If anything it made for even greater heart-in-mouth drama, but with so much at stake two goals deep into extra-time from Italy sent them through to the final.
E-mail to a friend