(CNN) -- FIFA president Sepp Blatter believes the backing of British politicians in his quest to force professional clubs worldwide to name at least six home-grown players in their line-up is a major boost.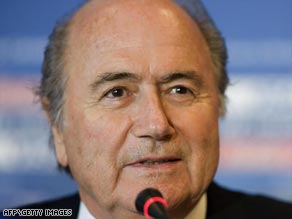 FIFA president Sep Blatter says the UK report represents a new mark of support for 6+5 proposals.
Blatter expressed "satisfaction" to the 150-strong all-party Parliamentary Football Group in the United Kingdom for a report recommending that the Football Association and respective English Leagues adopt the FIFA-proposed 6+5 rule.
If adopted, the controversial move would create a limit of five foreigners in any starting side -- but Blatter insists the restriction would not contravene European law.
"This report represents another important contribution to the ongoing debate as well as a new mark of support towards the cause we are advocating," said Blatter in a statement on the FIFA Web site.
"These recommendations are based on the need to protect national teams, promote youth development, safeguard and encourage clubs investing in training domestic talent, restore the competitiveness of competitions, and reach an harmonious development of football world-wide.
"In May 2008, the FIFA Congress in Sydney voted with an overwhelming majority in favor of a resolution on the 6+5 rule.
"It is important to make clear that FIFA has always been in favor of a step-by-step introduction of the 6+5 rule, ensuring that clubs have time to adjust the composition of their teams over a period of several years.
"FIFA has stressed previously that it wishes the 6+5 rule to be developed through a process of consultation, and this includes FIFA´s respect of existing legislation.
"During the past year I have been encouraged by the support of a growing number of football associations, prominent football personalities, the IOC and other sporting organisations around the world.
"In addition, representatives of the EU Member-States, in particular during the meeting of the EU Ministers of Sport in Biarritz last November, and other European institutions have also expressed their support of the same principles.
"Moreover, the recently-released INEA legal analysis concluded that this rule is not incompatible with EU law."
E-mail to a friend