(CNN) -- Wembley's controversial pitch will be dug up and replaced before the start of next season, the English Football Association said on Monday following criticism from losing semifinal managers Alex Ferguson and Arsene Wenger.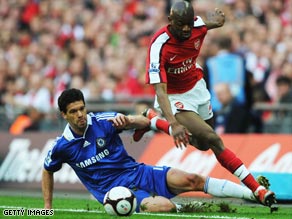 Michael Ballack leaves his mark on Wembley's 'spongey' pitch during the semifinal win against Arsenal.
In a Web site statement the FA said the replacement pitch "will be of a different composition and from a different turf nursery.....and better suit the unique Wembley Stadium environment."
Arsenal chief Wenger, whose side lost to Chelsea on Saturday, said of the current surface: "You will never see a good football match on a bad pitch. It is like that."
He added: "I just would think they should have to reconsider the whole structure of the pitch. At the moment they can re-lay it every three months and they will always have a bad pitch.
"It is not good enough for the Champions League Final, for the Olympic games, not for the semifinal of an FA Cup.
"Why? Because the first priority is that the pitch is good when you build a new stadium. If that is not right, the whole stadium is bad no matter how much money you spend."
Manchester United supremo Alex Ferguson, whose side crashed in a penalty shoot-out against Everton, was equally scathing after Sunday's game.
He said the surface at the new $1 billion north London stadium "looked spongey and dead" and made it diffiucult to pass the ball quickly and Ferguson was supported by Everton counterpart David Moyes who said it needed to be relaid.
That is exactly what the FA now have in mind and they promised there will be a big difference, but not in time for this season's Cup Final showpiece on May 30.
"Wembley Stadium is a multi-purpose venue and everything is being done to sustain a heavily-used pitch in such a large structure. The surface is at the heart of the stadium and of the business," said the FA's statement.
"The grounds team has made continual improvements to the pitch since opening in 2007 however the stadium's unique environment continues to prove challenging.
"Wembley Stadium is working continuously with independent consultants and the grounds team to assess maintenance procedures and pitch composition. They aim to overcome these challenges and ensure the most suitable surface is achieved for all codes of sport.
Football Fanzone
Football fans, the chance to have YOUR say on CNN is here!


"Whilst recent changes to the surface have seen improvements in player traction, we accept there are still further improvements to be made.
"Wembley Stadium will continue to work hard to address these issues for our next matches. There are ten more events taking place on this pitch including The FA Cup Final and England vs Andorra. The existing pitch will then be replaced after the first set of summer concerts for The FA Community Shield.
"This new pitch will be of a different composition and from a different turf nursery. It is believed this composition will better suit the unique Wembley Stadium environment and make it possible to deliver both a quality playing surface and a quality event calendar at Wembley Stadium."
E-mail to a friend