LONDON, England (CNN) -- Chelsea manager Guus Hiddink insists he will leave the London club at the end of the season --- but says winning the Champions League would be the perfect ending to his short spell at Stamford Bridge.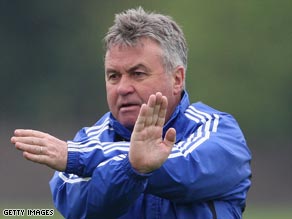 Hiddink has restored Chelsea's fortunes since arriving in London in February.
In an exclusive interview with CNN's Pedro Pinto, the Dutchman insisted he remained committed to leading Russia to next year's World Cup finals in South Africa and would return to the post of full-time national manager when his Chelsea contract ends next month.
"Although I like it very much (at Chelsea) and enjoy working with the guys, I know in my heart I have my commitment to the Russian players as well," Hiddink told CNN.
Under Hiddink, Russia reached the semifinals of last year's European Championships. With the team currently facing a tough road to the 2010 World Cup in South Africa, he said it would be unfair to quit midway through the qualifying campaign.
"It would not be fair to say to them, 'Hey guys, I love it at Chelsea.' I love to be in Russia as well so I cannot let them down. I don't like that and I won't do so."

Watch CNN's exclusive interview with Hiddink »
With Chelsea due to face tournament favorites Barcelona later this month in the first leg of their Champions League semifinal, Hiddink added that winning the tournament in his final match in charge would be a "perfect scenario" --- but not one that would alter his future plans.
"Winning or not winning will not make that decision (to leave Chelsea) different. That's what we agreed," he said. "If you can get a title it would be perfect, but then we have to say goodbye."

See key moments in Hiddinks career »
Football Fanzone
Football fans, the chance to have YOUR say on CNN is here!


Hiddink, who led Dutch side PSV Eindhoven to the European Cup in 1988, has revived Chelsea's fortunes since taking charge in February following the club's dismissal of Brazilian manager Luiz Felipe Scolari, also steering them to an FA Cup semifinal date with London rivals Arsenal on Saturday.
Six wins in seven matches have also kept Chelsea in the hunt for the Premier League title, currently four points adrift of frontrunners Manchester United, as stars such as Frank Lampard and Didier Drogba recaptured the form that fired Chelsea to back-to-back championships under Jose Mourinho.
Hiddink said he had demanded instant results from Chelsea's players on his arrival -- and said they had responded positively.
"They had a difficult time. But for me it's an excuse to say, 'Don't judge us now.' I said from the first day that they had all the experience of big games, big leagues, World Cups, European Cups... and the players responded which I liked very much because this is a team that can play good football," Hiddink said.
"I try to judge what every player's ability is, and I think in every human being you can go a little bit further than sometimes you think yourself. So I'm looking for their boundaries of performance. You have to create an atmosphere where they can perform."
While this week's 4-4 draw with Liverpool --- and 7-5 Champions League quarterfinal aggregate win -- was hailed as a classic, Chelsea's sudden vulnerability in defense has led some to question whether Hiddink's side will be able to handle the attacking power of Barcelona in the next round.
"That's very much their style and their philosophy (to attack)," Hiddink said. "How to stop them? That's difficult. When they are in the mood they are the best team in the world. But also the best teams every now and then can be stopped."
Hiddink admitted he had been angry at halftime during Tuesday's clash with Liverpool after Chelsea allowed the visitors to claim a two-goal lead.
"Let's just say we were very angry. I was angry, my assistants were angry, but also the players and that's the most important thing. They knew that they cannot perform like that to get a good result," he said.
Hiddink, whose Russia side qualified for last year's European Championships at England's expense, also praised England manager Fabio Capello for restoring the fortunes of the national team.

"He has revived the English team. The team is now alive and I talk of course with the (Chelsea) boys -- John Terry, Frank Lampard, Ashley Cole -- and they enjoy now being in the national team and are playing with a lot of pride," Hiddink said.
"He knows football, of course, and he's one of the most successful coaches in the world. But in his approach he also knows to get the best out of the players. I think he's very strict to say what their job is. But he has the players enjoy the game as well -- with a certain level of discipline, which is necessary."
E-mail to a friend