(CNN) -- Manchester United manager Sir Alex Ferguson has launched a stinging attack on Rafael Benitez, branding his Liverpool counterpart as 'arrogant'.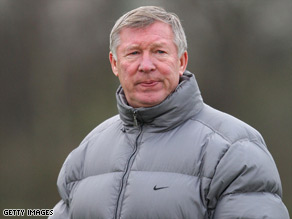 Ferguson has branded Liverpool rival Benitez 'arrogant' in their latest war of words.
Ever since Benitez's post-Christmas tirade at Ferguson, in which he listed a succession of 'facts' that backed his belief the Scot was receiving favorable treatment from the Football Association, there has been a regular exchange of sniping between the pair.
Ferguson has insisted he did not want to get drawn into a full-scale argument, and last week questioned why Benitez was talking about him when he was preparing for a key Champions League encounter with Chelsea.
Yet there has been a sense that the growing irritation would eventually give way to public anger -- and the trigger was Benitez's reaction to a second Liverpool goal against Blackburn at Anfield last Saturday.
Football Fanzone
Football fans, the chance to have YOUR say on CNN is here!


Beset by injuries, Sam Allardyce's Blackburn side named central defender Christopher Samba as a lone striker.
And -- under the circumstances -- Ferguson felt Benitez's reaction, a wave of the arms to, according to Allardyce, signal the game was over, was unwarranted and unacceptable.
Coming on the back of Benitez's previous assertion that Everton, who face United in their FA Cup semifinal on Sunday, were a "small club", Ferguson decided it was time to make a stand.
"Benitez said Everton are a small club, which just points to his arrogance," said Ferguson in his weekly news conference.
"But it is one thing to show the arrogance he did. What you cannot forgive is the contempt for Sam Allardyce last week when Liverpool scored the second goal.
"I don't think Sam deserved that. He is a guy who has worked so hard for the LMA (League Managers' Association), looking after young players.
"He had a weakened team and to get that kind of contempt....I don't think any other Liverpool manager would have done that. It was beyond the pale."
E-mail to a friend