By Mike Steere
For CNN






LONDON, England (CNN) -- America's Cup holders Alinghi and challenger of record Oracle have been told to get over their differences in an open letter from some of sailing's most influential figures.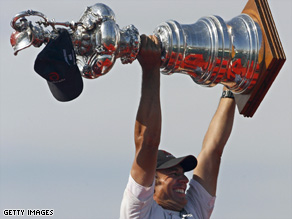 Sort it out: Ernesto Bertarelli and his Alinghi syndicate have received an open letter from top commodores
Five commodores from the world's top sailing clubs joined forces to give Alinghi and Oracle an open letter carrying a stern message: make it a multi-challenger event, and get on with it.
Société Nautique de Genève (Alinghi) and the Golden Gate Yacht Club (Oracle) have been locked in protracted court battles over the future of the 33rd edition of the Cup since the last regatta in 2007. Earlier this month Oracle was formally recognized as the official challenger of record by a New York appeals court.
The open letter, received by the two clubs, read: "We write to encourage you to negotiate together for a fair and equitable multi-challenger competition for the thirty-third defense of the America's Cup.
"We believe that such an event, as opposed to a "Deed of Gift" defense, is in the greater interest of the sport of sailing in general and of members of the broad America's Cup community, who have invested their time and resources to make the event a true international competition of the highest order.
"We hope that the current challenger and defender will work together to find a way through their differences to bring about such an event for the good of yachting and the America's Cup."
The letter was jointly addressed from Robert Iliffe, Commodore Royal Yacht Squadron; David K. Elwell Jr., the Commodore of the New York Yacht Club; Mark Fitzhardinge, Commodore Royal Perth Yacht Club; R. Andrew La Dow, Commodore San Diego Yacht Club; and Scott Colebrook, Commodore of the Royal New Zealand Yacht Squadron.
MainSail special
Discover incredible super-yachts and get your sailing fix!


All of these clubs have held the Cup, or, in the case of the Royal Yacht Squadron, have set America's Cup competition in motion.
Commodore of the Royal Perth Yacht Club, Mark Fitzhardinge, told CNN it was crucial that the America's Cup went forward as a multi-challenger event.
"Our focus is on the sustainability and longevity of the America's Cup. We believe that (a multi-challenger competition) is the best format.
"How it has been run recently has been quite successful -- it has really brought the best out of it," he said.
Fitzhardinge wanted to see the competition move forward as soon as possible, but he did not believe its image had been irreparably damaged by the recent court battles.
"I don't think anyone in the sailing community likes to see protracted arguments. But this has happened before. It does add some mystery to it - and that's partly what it's about."
E-mail to a friend