(CNN) -- Arsenal manager Arsene Wenger has urged his players to take charge of their own destiny in Wednesday's Champions League quarterfinal against Villarreal.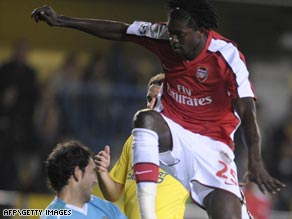 Emmanuel Adebayor's goal has put Arsenal on course for a place in the Champions League semifinals.
The Gunners are in the driving seat after Emmanuel Adebayor's away goal earned them a 1-1 first leg draw at El Madrigal last week.
A goalless draw at the Emirates would be enough to seal Arsenal a place in the semifinals against Manchester United or Porto.
Wenger insisted: "We know we are in a situation where we don't want to be tentative at all. We want to be decisive but you can only do that if you decide to play in a very positive way.
"I don't believe that we are a team who can play for 0-0, that's not our natural way."
He added: "I don't expect any weaknesses from them. I expect some strength from us to say: 'Listen, we have the opportunity to get to the semifinals, let's take it'.
"I am confident we will and we have the quality needed to do that but you know from their game that they can be dangerous as well."
Arsenal will be without Johan Djourou (knee) and Gael Clichy (back) for the return leg at the Emirates Stadium, but Abou Diaby is available.
Goalkeeper Manuel Almunia (ankle) was injured in Spain, as was centre-back William Gallas (knee). Tomas Rosicky is out and Andrey Arshavin is cup-tied.
The Gunners have gone 18 matches without a Premier League defeat heading into the Champions League clash and will be within touching distance of the final in Rome if they hold on.
Wenger, whose last trophy was secured in 2005, said: "These boys are winners. I believe in general this team has not got the credit it has deserved because they have behaved every day - the focus these players have shown since the beginning of the season has been fantastic.
"The hunger they have shown every single day in training and the focus they have shown is great, so that's why we have improved a lot. So there is still a lot more to come. At 21, 22 you can only go upwards."
He added: "What makes me confident is that recently, in every single game, when the odds were against us we found the resources within the team with a strong response every single time.
"That happened at Villarreal, that happened again at Wigan (on Saturday) and every time we came out strong.
"I believe we have turned the season in a very positive way and put ourselves in a great position to qualify and we want to take advantage of that.
"I believe the team has shown great mental strength through the whole season and we have another good opportunity to show those mental strengths."
E-mail to a friend