(CNN) -- Arsenal manager Arsene Wenger has urged his players to take charge of their own destiny in Wednesday's Champions League quarterfinal against Villarreal.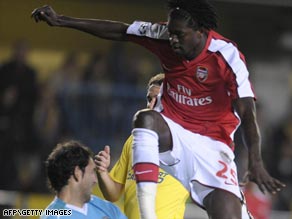 Emmanuel Adebayor's goal has put Arsenal on course for a place in the Champions League semifinals.
The Gunners are in the driving seat after Emmanuel Adebayor's away goal earned them a 1-1 draw at El Madrigal last week.
A goalless draw at the Emirates would be enough to seal Arsenal a place in the semifinals against Manchester United or Porto.
Wenger insisted: "We know we are in a situation where we don't want to be tentative at all. We want to be decisive but you can only do that if you decide to play in a very positive way.
"I don't believe that we are a team who can play for 0-0, that's not our natural way."
He added on the Arsenal Web site: "I don't expect any weaknesses from them. I expect some strength from us to say: 'Listen, we have the opportunity to get to the semi finals, let's take it'.
"I am confident we will and we have the quality needed to do that but you know from their game that they can be dangerous as well."
E-mail to a friend