(CNN) -- Valencia striker David Villa intends to see out his six-year contract with the Spanish Primera Liga club -- even if they fail to qualify for next season's Champions League.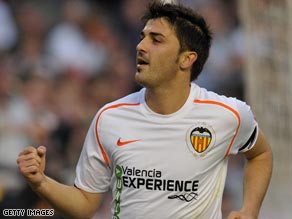 Villa continues to confirm his commitment to Valencia despite persistent rumors about his future.
The 27-year-old Spain international committed himself to the club until 2014 last summer, but that has not stopped speculation linking him with a big-money move to the likes of Chelsea, Real Madrid or Barcelona.
Unai Emery's side lie fifth in the table, two points behind fourth-placed Villarreal with nine games remaining, but Villa insists he will not reconsider his long-term plans should the team miss out on a place in Europe's top club competition.
"There may be changes to the landscape on a professional level but there won't be in our decisions because I want to stay," he told Spanish newspaper AS.
"We all know what a year without Champions League would be like, so we wish to reach fourth spot. Nothing is going through my mind other than finishing in the top four."
Football Fanzone
Football fans, the chance to have YOUR say on CNN is here!


Asked whether he sees himself still at the club in September, he replied: "I am not looking at September -- I am here for the next six years. Unless someone from the club tells me otherwise, and I repeat that this has not happened, I am here for six years.
"Rumors do not affect me because, to tell you the truth, I am expecting them -- I am not influenced by them.
"I think the best thing for me, given the club has not informed me of anything other than wanting me to see out my six-year contract here, is to forget the rumors and concentrate on the sport. If something comes, it will be discussed... but now it is a waste of time."
Valencia have been crippled by huge debts, which has led to players not receiving full pay and construction work on their new stadium grinding to a halt.
The club also admitted for the first time last month they might have to cash in on some of their star players, with Spain internationals Villa and David Silva among their biggest assets.
Villa, however, has tried to distance himself from such matters and focus only on on-pitch affairs. "Players try to isolate ourselves from those things," he said. "I do my work because, when we talk about issues during the week, the only thing that can be a relief for the players is to play well and win on a Sunday."
E-mail to a friend