(CNN) -- Real Madrid midfielder Lassana Diarra claims he learned "nothing" from Arsene Wenger during his unhappy four-and-a-half-month stint at Arsenal.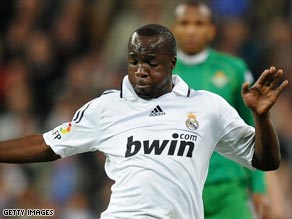 Real Madrid midfielder Diarra is critical of his time playing for Arsene Wenger at Arsenal.
The 24-year-old French international joined the Gunners in August 2007 from Chelsea but was offloaded the following January to Premier League rivals Portsmouth.
Now, 12 months later, his stock had risen considerably, and he moved on to Spanish champions Madrid for a fee in the region of 20 million euros.
Despite seemingly settled in the Spanish capital, Diarra looks back on his time at the Emirates Stadium far from fondly.
When asked by Spanish newspaper El Pais what he had learned from compatriot Wenger, Diarra replied: "Me? Nothing. I did not learn anything from me time under Wenger.
Football Fanzone
Football fans, the chance to have YOUR say on CNN is here!


"He just taught me to doubt everything. The relationship I had with him was not good. You cannot understand the whole world but I learned more from former Chelsea manager Jose Mourinho.
"Mourinho taught me to fight. I spoke looking into his eyes. If you had a problem, it would be discussed."
Diarra added: "Wenger never addressed me until I told him I was going. He talked to others, but not me. I feel like I never played for Arsenal. If people do not remind me of them (Arsenal), I forget about them. It's erased from my memory."
E-mail to a friend