(CNN) -- Brazil international striker Adriano could quit Inter Milan after announcing plans to take a break from football for an unspecified period of time.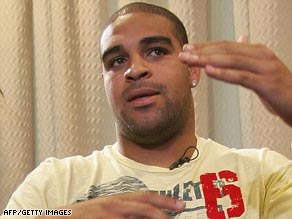 Brazilian striker Adriano explains his decision to leave Inter Milan and return to his native country.
Adriano called a press conference in Rio de Janeiro on Thursday to announce plans to give up football as he has "lost the joy of playing".
The 27-year-old said the break could last for "one, two, or three months" -- and does not want to return to Europe for the moment because of the pressure of playing in Italy.
"I have stopped my career for a while because I have lost the joy of playing," he told the world's media. "It could be one, two or three months. There is big pressure in Italy. I don't want to return to Italy. I want to live in peace here in Brazil."
Adriano said he will use the time to consider his future, dropping a strong hint that he does not see himself returning to Milan.
"I was not satisfied," he said. "Everybody has the right to be happy in his job and I was unhappy in Italy. I will re-think my career. I am happy in Brazil alongside my friends and my family."
The former Sao Paulo forward insisted he was healthy. "I am not ill," he said. "Adriano is not dead. I am not going to any hospital. I will try to restart, try to rediscover the joy of playing. The situation has arisen because I was not happy."
Adriano failed to report back to his club after last week's World Cup qualifier against Peru and was later found to be staying with his mother in Rio de Janeiro.
It was thought he would go back to Italy next week but his representative, Gilmar Rinaldi, confirmed earlier on Thursday that would not happen.
Football Fanzone
Football fans, the chance to have YOUR say on CNN is here!


Rumors have been spreading all week as to Adriano's situation, but the striker sought to put the record straight.
"A number of things were published in newspapers," he said. "Everything I did was speculated on. I talked to my family, my friends and my agent. I am doing all this thinking of my happiness."
This is not the first time that Adriano's Inter career has been called into question because of the player's off-field situation.
In September 2007, he was sent home to Brazil by Inter as he was unhappy, and he went on to join Sao Paulo on loan for six months before heading back to Italy.
Adriano said that he does not expected to be paid by Inter while he is absent from the team, and said he had no ill-feeling towards the club.
"I have no bad feelings for Inter," he said. "I just dislike living in Italy. I felt I was pressured. I felt big pressure when I was 18 years old (when he joined Inter from Flamengo). A lot of people will not understand. It is a bad situation, not easy at all, but it is a choice. "
"My agent Gilmar is going to Italy to ask for some time for me and it is fair that I am given no money." Adriano added that, if he resumes his career in Brazil, he wants to sign for Flamengo. "If I play in Brazil, it will be for Flamengo," he said. "If not, my grandmother will kill me."
E-mail to a friend