By Alex Thomas
For CNN






MANCHESTER, England (CNN) -- Alex Ferguson says the drive for five trophies is still on but even if Manchester United clinch the historic sweep this season he won't retire.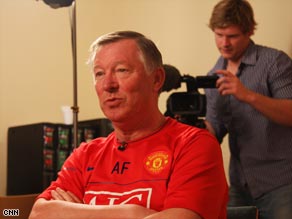 Ferguson sits down with CNN to talk trophies, star players and a special successor.
In an exclusive interview, the Old Trafford boss has told CNN that he won't quit for another "two or three years" and he continues to be motivated by the quest for European success.
Manchester United's bid to claim a third Champions League title under Ferguson suffered a setback on Tuesday when they were held to a two-all draw by Porto at Old Trafford.
It was a surprisingly good performance by the Portuguese club and makes them favorites to go through to the semi-finals.
However, Ferguson believes his side can become the first English team to win in Porto and keep their quintuple quest on track.
"It doesn't matter what happened on Tuesday night against Porto, we're still in the European Cup with a chance," he said.
If Manchester United are knocked out of the Champions League it will only fuel Ferguson's desire to try again.
He told CNN: "If there was one challenge, I would love the club to win more European trophies ... I don't think we've won the number we should have won."
CNN Exclusive
Don't miss Pedro Pinto's exclusive interview with Manchester United legend Alex Ferguson, only on CNN Friday.


"There have been years where we were unlucky. The years we were disappointed. The years when we've thrown games away, and that sort of gives you a kaleidoscope of what football is like in a way.
"So, therefore, if we could just win a couple more European trophies then I would definitely quit."

Watch Ferguson speak about his European ambitions »
Interestingly, Ferguson's desire to beat the rest of Europe seems stronger than his interest in matching the record number of league titles won by bitter domestic rivals Liverpool.
Despite the resurgence of the reds on Merseyside, it's Manchester United who still hold a one point lead at the top of the Premier League table, with a game in hand.
Although the remainder of this season's football landscape is littered with ifs and buts United will surely collect more silverware and when the final whistle blows on Ferguson's career, the task of his successor will be almost as large as the Scot's trophy cabinet.
Don't Miss
Will any coach want to follow a man who has won the Champions League and League Cup twice, the FA Cup four times and the Premier League on no fewer than 10 occasions?
"Well, I'm glad it's not my decision," joked Ferguson, "but I think you need someone with experience here because it's a big club now. It's a massive club."
"I like Jose (Mourinho). I think he's a good guy. We've got on very well together but ... I don't know what the club thinks about who the next manager is going to be ... Hopefully it's not for another two or three years because I intend to stay on as long as I can."
Although Ferguson isn't specifically nominating Mourinho as his successor, the 67-year old admits it will take a Special One -- Mourinho's self-proclaimed title -- to achieve what he has.
And he looks for the same quality in his players.

Watch what Ferguson has to say about Ronaldo »
"I think it can be difficult for some type of people... they get into a comfort zone. They can relax too much and they can't get it back. Whereas real stars (don't). You think of Tiger Woods... he comes back after that knee operation and... he wins that tournament last week. You tell me what drives him on... they're special people."

"I enjoy the challenge of having to be number one or trying to be number one." There's little doubt that most will consider Ferguson to be number one when he eventually calls it a day.
Until then, while the world's best golfers are chasing Tiger's Tail, the world's best coaches will be chasing Alex's Ankles. And neither group are likely to catch up.
E-mail to a friend

All About Manchester United • Soccer • European Football