(CNN) -- Czech football is in turmoil after national coach Petr Rada was sacked on Wednesday and six star players given indefinite suspensions for a "breach of discipline."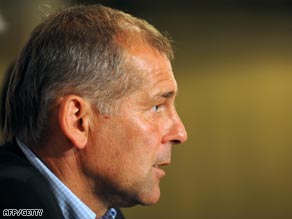 Rada lost his job after a 2-1 home defeat to neighboring Slovakia after a draw with Slovenia.
Rada, who took over from veteran Karel Bruckner last July, pays the price for poor results in World Cup qualifying, the latest a 2-1 defeat to neighboring Slovakia in Prague.
It left the Czechs in fourth in European Group 3 with eight points from six game and trailing surprise leaders Northern Ireland by five points.
In the aftermath of the defeat, the six banned players were photographed in a restaurant by a tabloid newspaper, allegedly talking with prostitutes, prompting action by the federation's executive committee on Wednesday.
The banned players are Atletico Madrid defender Tomas Ujfalusi, fellow defender Radoslav Kova of West Ham, midfielder Marek Matejovsky (Reading) and strikers Martin Fenin (Eintracht Frankfurt), Vaclav Sverkos (Sochaux) and former Liverpool star Milan Baros.
On Tuesday, Czech captain Ujjfalusi quit international football after a career spanning 78 caps, blaming the federation and the critical media.
He told the Czech football federation official Web site www.nv.fotbal.cz:
"Because of the current environment in the Federation and the media, I don't want to represent the country anymore,"
Rada, a former Czech international, also came in for a torrent of criticism after their latest defeat with widespread calls in the media for his dismissal after only eight games in charge.
His replacement is likely to be announced at the end of the month with the new coach being given the opportunity to reinstate the banned players if he chooses.
Rada had two spells as assistant coach before taking charge, working with Bruckner from 2006 to 2008 and as number two to Jozef Chovanec from 1998-2001 with spells in club management in the Czech national league.
Bruckner went after the Czech's disappointing exit from the group stages of Euro 2008, but results have not improved under Rada.
E-mail to a friend