(CNN) -- Rafael Benitez has accused Manchester United counterpart Alex Ferguson of being scared of his Liverpool side and talking "too much" about other teams.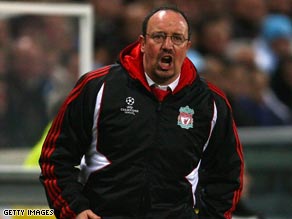 Liverpool manager Benitez could not resist another swipe at Manchester United counterpart Alex Ferguson.
The Anfield chief, despite having the Champions League showdown with Chelsea on Wednesday as his immediate objective, could not resist another swipe at the Old Trafford supremo as the Premier League race reaches boiling point.
Benitez was responding to claims from Ferguson that the loser of the Liverpool-Chelsea quarterfinal will be United's biggest challenger for the title because they will only have one competition to contend with.
Benitez will have skipper Steven Gerrard fit following a minor groin problem and Sami Hyypia (knee) and Yossi Benayoun (hamstring) available for the first leg with Chelsea.
But the battle with United for the domestic title is clearly Benitez's driving inspiration.
"It is not mind games, I think it maybe is that he is a little bit scared (of us)," he told PA Sport.
Liverpool took over at the top of the table on Saturday with a late winner by Benayoun at Fulham. But less than 24 hours later, United produced a stunning comeback victory over Aston Villa with the decisive goal coming in the fourth minute of injury-time from 17-year-old Federico Macheda.
That grabbed the initiative back for the Old Trafford club, but Benitez has come out fighting.
He said: "I do not have a problem with United. Clearly one of us, either Chelsea or us, will end up focusing just on the Premier League after this.
"I think Sir Alex will be supporting Liverpool in this tie because he knows we are the bigger threat now.
"If we continue in the Champions League maybe he will think we are tired. If we are not in this competition then he knows that we will be a (bigger) threat in the Premier League."
He added: "I would like to be worried about both competitions, it means we will continue to be successful.
"We just concentrate on our team, while he likes to talk too much about other teams."
Before Liverpool can lock horns again with United, they must face a Chelsea side who knocked them out of this competition in the semifinals last season.
A John Arne Riise own goal in the first-leg at Anfield ultimately put Liverpool out, Chelsea winning 4-3 on aggregate after the Stamford Bridge second game.
Benitez said: "It is not a good time for either of us to be playing the other. It is a big challenge for both teams. They have a good team with experience and a manager with experience. This game is 50-50.
"I have great respect for a massive club and a very good team. We are both playing in big competitions. We are both big teams.
"We have beaten them twice this season in the league, it will give us confidence, but this is a different competition and it will be down to just one or two mistakes.
"Keeping a clean sheet is important in the first game for both teams, I would prefer to play at Anfield second, but that is not the case so we must get on with it."
Chelsea counterpart Guus Hiddink has no intention of playing a waiting game at Anfield.
The man who won the European Cup back in 1988 as coach of PSV Eindhoven, and has since forged a reputation for attacking football, insists Chelsea will be going for broke against Liverpool.
Hiddink, who confirmed that Jose Bosingwa is out of the game with a hamstring injury, said: "We will not sit back and wait until we are overcome. That is not the way to play football. That's not my philosophy or the team's concept.
"We will not just wait. Wherever we can, we will try and take the initiative.
Football Fanzone
Football fans, the chance to have YOUR say on CNN is here!


"Of teams who score away from home, 70% go through to the next round; if you can score in the away game, that's always a big blow for the home team.
"If you concede at home, it's always very difficult to recover from that."
Hiddink acknowledges that the players, rather than him or his opposite number, will decide who wins and loses.
He said: "The managers can do so much, but the players have to deliver. We prepare; we have prepared for these beautiful end-of-season games, the finals, watched by the whole world. That is what we all want to be involved in.
"Managers will work and plan; we sometimes think we are so important - but in the end, the team has to do it.
"We prepare, and managers have never lost a game in preparation or in the meetings pre-match. We've won all those games!
"But the players have to stick to the tactical plans we make; then it depends on which team makes the fatal error."
E-mail to a friend