(CNN) -- Emmanuel Adebayor grabbed a critical away goal as Arsenal came from behind to secure a 1-1 draw against Villarreal in the first leg of their Champions League quarter-final at El Madrigal.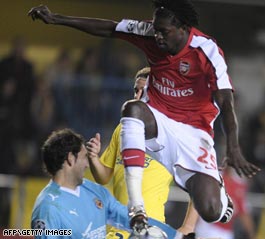 Togo striker Adebayor snatched Arsenal a vital away goal with a spectacular scissor-kick in Spain.
The Togo striker made it three in two games, and five in this European campaign, with a stunning scissor-kick after 66 minutes to cancel out an equally impressive opener from home captain Marcos Senna.
"I'm really pleased with how I played - I don't even know how I scored, but the most important thing is that the ball went in the back of the net" Adebayor told PA Sport.
"The most important thing is to play and do something good here and I think we have done that quite well.
"It was quite difficult for us because we played against a team that play good football, but we enjoyed it.
"Even though the second leg is going to be tough we are playing at home so we will do everything to go through."
Arsene Wenger's side lost both goalkeeper Manuel Almunia and centre-back William Gallas to injury during the first half, but rallied to secure what could prove to be a decisive result to defend at Emirates Stadium next Wednesday.
The last time Arsenal played at the intimidating Spanish ground was three seasons ago when a dramatic late penalty save from Jens Lehmann guided them through to the Champions climax.
While that journey ultimately ended in defeat to Barcelona, there is growing belief Rome in 2009 could just prove the coming of age for Wenger's young Gunners.
Villarreal have never lost at home in the Champions League and kept holders United to a goalless draw earlier this season.
Gael Clichy had already cleared off the line when the hosts took the lead in stunning fashion after 10 minutes.
The ball was worked down the right before being passed inside to Senna. The skipper took aim and drilled a wonderful 25-yard strike past Almunia into the top corner.
Arsenal were forced into a change after 27 minutes when Almunia, who sustained an ankle injury in the early goal-line scramble, was replaced by Lukasz Fabianski.
The young Pole was immediately called into action, first saving low to his left from Senna and then producing a good reaction block at the near post to deny Joan Capdevila.
Football Fanzone
Football fans, the chance to have YOUR say on CNN is here!


In stoppage time, Arsenal were awarded a free-kick in a central position after Adebayor went down in between two defenders.
Fabregas took his shot early, rolling the ball into the net, but the quick effort was ruled out by Norwegian referee Tom Henning Ovrebo and the Arsenal captain was shown a yellow card.
The second half continued to be frustrating for the Premier League side, until, out of nothing, Adebayor struck his superb equalizer.
There seemed little danger when Fabregas, who set up both Adebayor's goals against Manchester City on Saturday, lofted a high ball into the Villarreal penalty area.
Surrounded by three markers and with his back to goal, Adebayor collected the ball on his chest before dispatching a brilliant scissor-kick into the far corner.
E-mail to a friend