(CNN) -- Belgium's disappointing World Cup qualifying has cost 55-year-old coach Rene Vandereycken his job, Federation officials announced on Tuesday.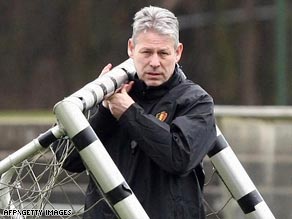 Vandereycken has shouldered the responsibility for Belgium's failure to challenge for the 2010 finals.
Vandereycken was in charge when Belgium failed to qualify for Euro 2008 and are curently fourth in their World Cup group, 11 points behind leaders Spain, and seemingly out of the running for a place at the 2010 finals in South Africa.
Group runners-up also have a chance of going through via a knock-out round, but Belgium were last week beaten twice in the space of five days by second-placed Bosnia-Herzegovina.
"Those are the two results that especially disappointed us," said federation president Frangois De Keersmaecker whose nation are one point adrift of Turkey but five behind Bosnia-Herzegovina.
"We don't dispute either the professionalism or competence of Rene but we did demand a level of results that was not achieved."
Belgium's Under-21 coach Jean-Francois De Sart, Marsille coach Eric Gerets, Vandereycken's former assistant Franky Vercauteren and former international Marc Wilmots have been touted as possible replacements.
E-mail to a friend