(CNN) -- Manchester City striker Robinho has been told he will not face charges following an investigation into allegations of a serious sexual assault, police in northern England said on Monday.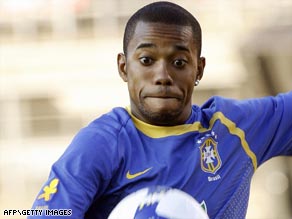 Robinho always maintained his innonence and has now been cleared over allegations of a serious sexual assault.
The Brazil international, who always denied any wrongdoing, had attended a pre-arranged interview with West Yorkshire Police and answered questions relating to an alleged incident at Space nightclub in Leeds.
A spokesman for West Yorkshire Police told the Press Association: "Following a report of a serious sexual assault that occurred at a nightclub in Leeds on January 14, 2009, the matter was investigated and the man was arrested and released on police bail.
"A file was submitted to the Crown Prosecution Service who decided that no further action should be taken."
The 25-year-old's adviser, Chris Nathaniel, of NVA Management, said: "I am pleased to announce that Robson de Souza (Robinho) has been cleared of all allegations of rape.
"He has maintained his innocence throughout the police interview process and I am delighted that all charges have been dropped.
"Robinho is a hard-working family man, who is extremely passionate about football. He now wishes to focus his attention on Manchester City to help create a successful end to the season.
"Robinho will be making an official statement at a later date. In the meantime, he wants to pass on his sincere thanks to all his family, friends, fans and Manchester City colleagues who have supported him through this terrible ordeal."
Robinho left Real Madrid for Premier League City last summer for a British record fee of £32.5 million.
E-mail to a friend