(CNN) -- Inter Milan striker Adriano has not yet set a date for his return to Italy, according to his agent, putting the controversial Brazilian's future at the San Siro even further in doubt.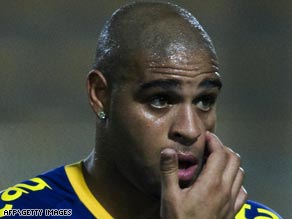 Reports suggest Adriano may be considering his footballing future after his fortunes have nosedived.
Adriano was due to report back to his club on Friday following international duty, but the 27-year-old was not on his scheduled flight from South America.
Agent Gilmar Rinaldi admitted that problems with Inter continue but refused to say why Adriano has not yet returned to Italy.
"I can predict nothing yet. I know he will not be back on Monday. We still have to sort out a few things," he said.
Reports suggest Adriano could be seriously considering his future in football after falling out with Inter officials several times this season and being left on the bench for both of Brazil's World Cup qualifiers last week.
E-mail to a friend