(CNN) -- Fanatical Manchester United fan Usain Bolt is planning to pass on his tips for speedy sprinting to their world footballer of the year Cristiano Ronaldo.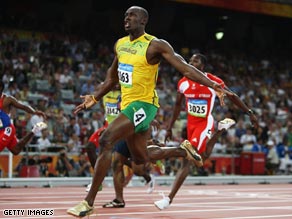 Bolt left his rivals traiing in winning 100 meters gold in Beijing in a world record time.
The Jamaican broke the 100 and 200 meters world records on the way to three golds in the Beijing Olympics and is coming to Manchester for a one-off sprint road race on May 17.
He will be at Old Trafford for United's penultimate Premier League match against Arsenal but before that he aims to attend a training session to link up with Portuguese flyer Ronaldo.
"I'll definitely be doing that," he told Press Association.
"I'm really looking forward to it and I think I can give him a few pointers.
"I can give him a few tips to help him get the edge on a few of the guys, I can get him up to speed.
"I'll need to see how he runs first and then I can show him a few pointers."
Ronaldo, who scored 42 goals in United's Premier and Champions League double last season, has reportedly sent Bolt a signed shirt and requested tips.
Bolt may not confine himself to training Ronaldo, joking that he hoped to impress United boss Alex Ferguson with his footballing ability.
"I'm really looking forward to that huge Arsenal game, Manchester United is my team I'm actually thinking about trying to make the squad too," he said.
"I'm a left-footer so I think I could be good down the left side and I'm pretty quick, so we'll see."
He is set to be paraded before the Red Devils fans before the Arsenal game which could prove crucial in the title run-in with United bidding for an unprecedented quintuple.
E-mail to a friend