(CNN) -- Barry Ferguson and Allan McGregor have been told they will never play for Scotland again after their late-night drinking antics last weekend.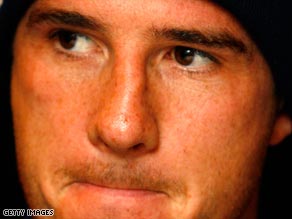 Ferguson has paid a heavy price for his drinking session with Rangers teammate McGregor.
The pair have also been given two-week bans by their club side Rangers and must forfeit their wages with Ferguson stripped of the captaincy at Ibrox.
Midfielder Ferguson and goalkeeper Allan McGregor were dropped to the bench for Scotland's World Cup win over Iceland in midweek after they engaged in a marathon drinking session following a 3-0 defeat to the Netherlands on Saturday.
The pair were then photographed appearing to flick a 'V' sign as they sat on the sidelines on Wednesday, angering the Rangers club management.
Both were sent home from training on Friday and will play no part in Sunday's match against Falkirk as part of their two-week ban.
But it was the later punishment meted out to the pair which came as a surprise with a statement from the Scottish FA (SFA) giving the reasons.
"This action has been taken in the best interest of the squad, the fans and the country," it read.
"We are determined to qualify for the World Cup and we must ensure that nothing is allowed to distract us from achieving this goal."
Ferguson, who was captain of both his club and country, could now be sold in the summer, according to reports.
Manager Walter Smith told Sky Sports News he was disappointed with the behavior of both his players and said he supported the action by Scotland manager George Burley.
"We were unhappy about that situation but that was something for George to act on," he said.
"The more disappointing aspect for us was the subsequent action on the bench on Wednesday night.
"From the club's point of view, that was not a good image to project."
Football Fanzone
Football fans, the chance to have YOUR say on CNN is here!


Central defender David Weir has been given the captaincy for the clash against Falkirk and admitted that the banned pair would be missed.
"There's been no impact on the squad, but obviously if Barry and Allan aren't playing, that's going to have an impact on the team," he told Press Association.
"They are lads that we work with every day, we like them, and it's not great to hear this."
Rangers go into the weekend round of matches three points adrift of leaders and arch-rivals Celtic.
Ferguson had the captaincy taken away from him previously in 2007 under former manager Paul Le Guen, but Smith reinstated him when he took charge at Ibrox.
Scotland manager Burley had indicated after Wednesday's victory which left his side second in the group to the Dutch that both Ferguson and McGregor would be considered for future squads.
But after a meeting between with SFA chief executive Gordon Smith, it was decided neither player would feature for Scotland again.
Ferguson later said he was "bitterly disappointed" by the news that he would not play for Scotland, while McGregor, who made his debut against the Dutch said he was "deeply sorry."
E-mail to a friend