LONDON, England (CNN) -- For almost a decade now, football gamers have been divided into two passionate groups: the EA Sports FIFA fans and the Konami Pro Evolution Soccer supporters.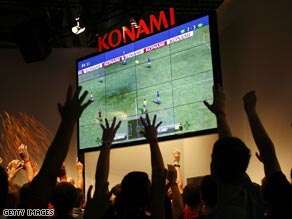 Which game do you worship? Konami's Pro Evolution Soccer or EA Sport's FIFA?
For those that try to tread the thin and at times impossible middle-ground between the two, the most neutral argument has believed that the FIFA series carries the best game options -- including real player names and teams, while Pro Evolution Soccer has had the best gameplay.
Graphics across the board have been fairly good.
So what does the latest installment of these two much-loved games offer? Football Fanzone has reviewed both games on the PlayStation 3 and Xbox 360 and found that both had made some positive developments.
Read our FIFA 09 review here
Read our Pro Evolution Soccer 2009 review here
It seems that graphics have continued to improve, while FIFA has made significant gains in the gameplay. Pro Evolution Soccer, on the other hand, has secured the rights to some UEFA Champions League teams for the next four years.
Now, we want to know which game you prefer and why. Are you an EA Sports or a Konami fan?
Share your thoughts and let us know your favorite in the Sound Off box below.
E-mail to a friend