(CNN) -- Arsenal captain Cesc Fabregas is set to make his comeback after a three- month injury layoff in Saturday's Premier League clash with Manchester City.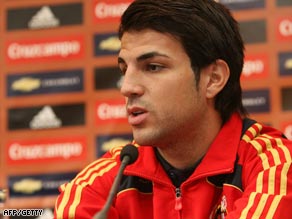 Spanish international Fabregas is a key player in the Arsenal line-up.
Spanish international midfielder Fabregas has been out since December 21 when he injured his knee in the 1-1 draw against Liverpool.
He returns at a critical time in Arsenal's season with Arsene Wenger's men in the quarterfinals of the Champions League and chasing domestic glory in the FA Cup where they face Chelsea in the semifinals.
They are also battling for fourth qualifying spot for the Champions League from the Premier League and face a challenging month.
"Cesc is ready to play again, but he needs three games to be back at his best," Arsenal manager Arsene Wenger told Press Association.
"We are due to play eight games in 25 days, which are all decisive."
In his absence Arsenal have strung together an unbeaten run of 16 league games and are also set to be boosted by the return of England winger Theo Walcott (knee) and Togo striker Emmanuel Adebayor (hamstring).
But Dutch striker Robin van Persie has been ruled out after picking up an injury on international duty and French international midfielder Sami Nasri is also a doubt.
Wenger told Arsenal TV Online: "Three players are out and there is a question mark over Nasri - but Fabregas, Adebayor and Walcott are all back and available in the squad."
E-mail to a friend