(CNN) -- Asian Tour rookie Gaganjeet Bhullar booked his berth at golf's Open Championship at Turnberry in July when he finished top of Asian International qualifying in Singapore.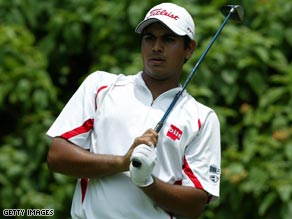 Indian rookie Gaganjeet Bhullar has qualified for the Open after just six starts on the Asian Tour.
The 20-year-old Indian fired a four-under-par 67 on Wednesday for a two-day total of six-under 136 at Sentosa Golf Club to earn a maiden outing at the world's oldest Major.
Liang Wen-chong will also be heading to Scotland after carding a 66 to finish runner-up while Australian Terry Pilkadaris qualified in third despite carding a nervy 72.
Compatriot Tim Stewart came out on top of a play-off to secure the final place at the Open after nine players finished tied fourth.
Bhullar, who has played just six times on the Asian Tour but finished in the top 10 on three occasions, started the day tied eighth and four shots off the pace.
"I've been watching the British Open since I was a kid and to actually get to play there is truly a dream come true," he said after carding four birdies in a bogey-free round.
Liang, who became the first Chinese to play all four rounds at the Open last year, shot an eagle and three birdies to climb the leaderboard and is relishing anotheer opportunity to compete against the world's elite.
"I played really well today," said the former Asia number one. "My tee shots and putts were all spot-on and I couldn't ask for a better performance."
"I hope to continue playing well and hopefully put Asia on the world map with a good showing in July."
Pilkadaris believed his 72 had cost him his Open opportunity after an eagle and three birdies were wiped out by six bogeys.
"I played horrendous today. I put myself under lots of pressure by hitting into the trees with my drives and was always scrambling to recover," said Pilkadaris.
"I thought I had missed my chance. I had to wait around for a couple of hours and finally when the news came, I'm really relieved."
Overnight leader Mikko Illonen of Finland dropped out of contention following a disappointing 77 and finished tied 20th.
"I putted really bad all day and I absolutely did not play well today, especially ending with a double-bogey on the last hole," he said.
E-mail to a friend