(CNN) -- Ukraine forward Andriy Voronin wants to use the World Cup qualifier against England at Wembley as an opportunity to prove he can return to Liverpool at the end of the campaign.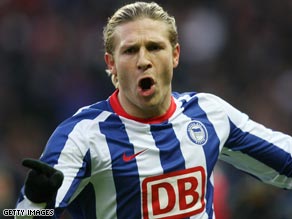 Voronin left Liverpool for Hertha on loan following the arrival of Robbie Keane.
The 29-year-old was loaned to Hertha Berlin this season, where he has scored 11 goals in 20 Bundesliga starts, and the title-chasing German side are among the teams interested in signing him permanently.
He feels he was not given a fair chance during his one year at Anfield and is desperate to return if there is the chance of regular football.
"I would love to come back to Liverpool, not as number five or six or to sit on the bench or to watch the match," he said. "I would like to come back to play. There are certain offers, I'm going to discuss them with my agent and take it from there."
Steven Gerrard's partnership with Fernando Torres may mean he would never be an automatic selection for Liverpool manager Rafael Benitez, while Voronin was also not helped by a serious hamstring injury.
"I don't think I was given a fair chance," he said. "If it were not for the transfer of Robbie Keane I think I could have shown much more of what I was capable of. I also had three months of injury with a hamstring tear.
"With that sort of injury you need a long time to recover and have to start proving yourself again."
Voronin has proved himself again at Hertha and ending England's 100 percent start to Group 6 is the next goal.
Andriy Shevchenko, another player with a point to prove after an unsuccessful spell in England, has been providing Ukraine coach Oleksiy Mykhailychenko with inside information on former Chelsea team-mates Terry, Frank Lampard and Ashley Cole.
"We all know what the Premier League is about but because Shevchenko played with John Terry he has much more to offer and discuss it with the coach," Voronin said.
Mykhailychenko added: "We had a conversation with Andriy and he gave characteristics of certain players. The more information you have the more chance you have to choose the right tactics. His knowledge has helped me."
Mykhailychenko, the former Rangers midfielder, revealed his total respect for England boss Fabio Capello but feels even the Italian coach learnt from former Ukraine boss, the late Valeri Lobanovsky.
"I have deep respect to the Italian school of coaching," he said. "I also feel the Italian coaching has been significant in the development of world football. But even Italian coaches, like Marcello Lippi, will admit they learnt from Lobanovsky.
"Of course, following after a great coach was horrendously difficult because fans always compare, maybe they expect some sort of repeat but there are no repeats in football."
Ukraine are unbeaten in the group and derailing England's World Cup would make Mykhailychenko a hero for Scotland fans as well, given their rivalry with England.
"Of course after playing for Rangers I know about the rivalry between England and Scotland but that is not the key issue, the game is about Ukraine and that will give me the most joy and satisfaction," he said.
Republic of Ireland winger Aiden McGeady has been ruled out of the World Cup qualifier in Italy.
The 22-year-old Celtic midfielder was omitted from manager Giovanni Trapattoni's plans for the Group Eight clash due to the knee injury he suffered during Saturday's 1-1 draw with Bulgaria.
McGeady's loss means the Italian will be without both his first-choice wingers after Damien Duff's departure with a hamstring injury. Wolves striker Andy Keogh seems likely to replace McGeady.
E-mail to a friend