By Neale Graham
For CNN





LONDON, England (CNN) -- Football fans are often prepared to make huge sacrifices for the love of watching their teams play.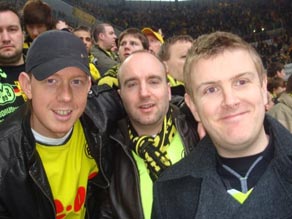 Matthew Gerrard (right) enjoying the convivial atmosphere of Borussia Dortmund's Signal Iduna Park.
Take Matthew Gerrard. The 33-year-old lives in Kent, in south-east England, yet regularly makes the eight-hour round trip to watch Borussia Dortmund in Germany's top flight division, the Bundesliga.
Matthew was once a fan of London-based club Arsenal, having been to a pre-Premier League game as a youngster 20 years ago.
But over time he found England's increasingly money-driven top clubs becoming a turn-off and soon turned his attention to Dortmund, one of the most successful clubs in German football.
"A trip to a 2006 World Cup match in Dortmund was the catalyst," he told CNN.
"That started my love for the club as the people were so friendly and warm towards me I started looking out for their results."
Three years on and Matthew is now a Dortmund devotee and drives 560 miles (933km) there and back get to the club's Signal Iduna Park ground in the west of Germany. Accompanied by three friends, Matthew is on course to have attended around a third of Dortmund's home games by the end of the season.
There are a number of reasons for him turning his back on the Premier League, the main one being his experience as a match-going fan, Matthew explained to CNN.
He said: "There is little police presence. They let the fans enjoy themselves, it is all about two-way respect, so you get more of a party atmosphere. Opposing fans mingle together much more, singing songs, talking football and all drinking alcohol.
Do you travel to other parts of the world to follow your team? Let us know in the Sound Off box below.
"I've never seen any trouble with drunk supporters getting agitated because it's not the norm in terms of behavior. This really brought it home to me how different and civilized the game is in Germany."
Not only is it civilized and family-friendly, it's immensely practical and efficient in its organization. A cup of beer costs €5 ($6.60) and vendors come round the stands to refill it for another €1 ($1.30). To limit litter, fans can sell the cup back to the club for €1 or keep it for when they return.
One big difference between the two leagues is the presence of terracing -- where fans stand rather than sit -- in the Bundesliga.
The Hillsborough disaster of 1989, where 96 Liverpool fans were crushed to death in an overcrowded terraced stand, brought an end to standing at top-flight English grounds, though many fans still try to stand today.
The lack of terracing has been criticized for gentrifying the game in England.
"For me, reintroducing terracing to the Premier League would be a step in the right direction. It would bring about an atmosphere and add a certain soul to the match that has been missing," says Matthew.
Football Fanzone
Football fans, the chance to have YOUR say on CNN is here!


The presence of terracing means stadiums can hold more people, which gives the Bundesliga the highest average attendance of any European league.
Dortmund's stadium holds more than 80,000 people and one of the ground's giant terraced stands, the Sudtribune, has a capacity of 25,000. To put that in context, the entire stadium of England's Portsmouth FC holds only 20,000.
Further enhancing its fan-focused credentials, the cost of entry to Bundesliga games is kept low and can even include transportation to and from the stadium.
"To stand on the Sudtribune costs €10 ($13), which is less than watching my local non-league side," he says. "Even sat in the stands you pay around €20 ($27) in a state-of-the-art stadium, offering a superb view of the action."
The cheapest seat for an adult at Manchester United's Old Trafford stadium -- the only Premier League ground with a capacity close to that of Dortmund's stadium -- costs €27 ($37).
Matthew no longer feels any affinity with the Premier League as he believes it takes fans' hard-earned cash and leaves them feeling short-changed.
"Unless the Premier League and its clubs start to listen to the fans I'm sure there will be more people like me who feel the same and fall out of love with it," he added.
"Whereas the Premier League will always be a four-horse race, the games in Germany are far more exciting and anyone can beat anyone else. This season's title race is still wide open.
"But, ultimately, what matters to me is that I can watch what I consider a superior product, in a foreign country, with all associated costs, for less than it would be to watch a top game in London."
E-mail to a friend