By Mike Steere
For CNN






LONDON, England (CNN) -- If you want the ultimate simulation of managing or playing as a football team of your choice -- it is hard to beat FIFA 09 by EA Sports.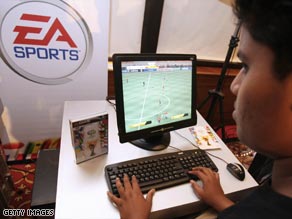 EA has produced a number of quality football games -- but how does FIFA 09 stack up?
Real teams, real players, real stadiums and real names are just the start -- this year FIFA has drastically improved gameplay compared to previous editions on both the Xbox and PlayStation 3 formats.
Although there are different levels of difficulty, you need to construct very realistic goals and beat players much as you would on a real football pitch. Even if you have Cristiano Ronaldo in your side you won't run rings around the opposition easily.
Some of the best developments include players raising their hand when they're available for a pass or through ball, the use of shoulder barging to beat opponents, and the new custom team tactics system. With this development you can change tactics during the game -- alternating between defensive tactics, attacking build up style and an attacking chance creation option.
Read our Pro Evolution Soccer 2009 review here.
Once again graphics are excellent and it's always nice to be able to choose from a vast variety of goal celebrations to cap your moment of glory in style.
FIFA 09 also backs up console play with the ability for 10 versus 10 online play -- something to keep all the boys and girls happy.
Overall this is the best football game I have ever played. Even the default menu screen is a brilliant innovation. Once the game has loaded you are automatically taken to a training ground pitch where you can have a "kick around" and rehearse some tricks.
One slightly odd feature I did find was that yellow cards can be distributed quite a long time after the offending event. This doesn't affect the game too much but it can be a little strange.
If there is a real negative to FIFA 09 it's probably the addictive quality. Managing teams through season after season and trying to win "real" leagues and cups -- while enjoying running my favorite team and admiring the stunning graphics ... it was 2.45am by the time I realized I was hooked.
But, just one more win, I promised myself, and I'd go to bed.
E-mail to a friend