(CNN) -- American tycoon Stan Kroenke has splashed out more than £42 million to lift his stake in Arsenal to just over 20 percent after buying 5,000 ordinary shares from fellow director Danny Fiszman.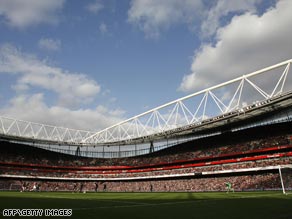 Arsenal chief executive Ivan Gazidis maintains it is 'business as usual' at the Emirates.
Kroenke became a non-executive director at the Premier League club last September and the rest of the Arsenal board gave their consent to the latest transaction, which was set at a price of £8,500 per share.
Diamond dealer Fiszman is now left with some 10,025 shares, around 16.1 percent of the total capital of Arsenal's parent holding company.
"I am pleased that Stan Kroenke has made a further substantial commitment to the club by acquiring approximately a third of my holding," Fiszman told PA Sport.
"Stan's long-term commitment to sport in general and football in particular has been well documented.
"I am therefore delighted that he has shown this desire to deepen his ties with Arsenal.
"I will of course continue to work for Arsenal with the best interests of the club at heart and have no intention of selling any more of my shareholding."
Kroenke firmly believes the club is heading in the right direction under the current set-up.
"After having been invited to join the board last year I am delighted to be able to increase my shareholding in Arsenal," he said.
"I will continue to work closely with my board colleagues to maintain the stable environment in which the club operates and to preserve the self-sustaining business model enjoyed by the club."
Arsenal's other overseas investor is Uzbekistan metals magnate Alisher Usmanov whose Red & White Holdings group bought into Arsenal when he paid former vice-chairman David Dein around £75million for his 14.65 percent holding. They have since lifted their stake to 25 percent.
Arsenal chief executive Ivan Gazidis maintains it is "business as usual" at the Premier League club.
"On a day-to-day level, it has absolutely no impact at all. It is a transaction between two board members, both of whom believe in the self-sustaining philosophy of the club," Gazidis told Arsenal TV Online.
"I remain focused on the business side, and on the playing side it is the same.
"Arsene Wenger and the players remain focused on the end of this season - we are in three important competitions and making some progress. We are hoping for a good end to the season."
E-mail to a friend