LONDON, England (CNN) -- Should it stay or should it go?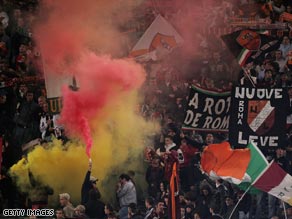 Football games at the Stadio Olimpico are seldom relaxed affairs
That's the question being raised by British media about the staging of the European Champions League final in Rome this year.
The 'Eternal City' and capital of Italy was chosen by governing organization UEFA to host the final, with the match scheduled to be played at the city's Stadio Olimpico on May 27.
But, following the ambush of a bus of Arsenal supporters by a group of AS Roma's 'Ultra' fans (and a resulting injury to one fan) before the sides' Champions League round of 16 match earlier this month, concern has been raised about the suitability of Rome as a venue.
A football blog on the Web site of British newspaper The Times has even started a campaign to have the final moved away from Rome.
It cites a whole list of previous violent incidents in Rome as reasons why the final should be moved.
"Fourteen Liverpool fans were stabbed when their side played in the Italian capital eight years ago, 16 Manchester United followers were stabbed in 2007, three Middlesbrough fans were knifed in 2006. The list goes on," the blog states.
What do you think? Do you agree there have been too many incidents in Rome or should the city have its chance to host the final? Have your say in the Sound Off box below.
UEFA president Michel Platini has acknowledged potential issues in Rome earlier this year and warned that if there were any violent incidents then the city risked losing the final. However, there is no sign he plans to move the event at this stage.
E-mail to a friend